Warhammer: Age of Sigmar's first Broken Realms starter set launches this week
Because 2020 hasn't provided enough Shadow & Pain.
Warhammer: Age of Sigmar has been preparing to enter a new narrative expansion for some time, and we now have a solid release date for Shadow & Pain. On November 14th, Games Workshop will begin selling the first of several sets that outlines a new epic tale in the fantasy-themed miniatures universe.
This first expansion in the Broken Realms series tells the story of a clash between the Daughters of Khaine and the Uhl-Gysh, as the former strive to free Dark Prince Slaanesh from the latter. Shadow & Pain will include new rules, lore, and - of course - miniatures for players interested in waging battles in scenarios or simply strengthening their existing armies. The set will include enough components to construct 38 different miniatures.
Broken Realms' launch will centre around a new core rulebook, Morathi, and focus on the eponymous Shadow Queen. New battleplans and story scenarios will involve five different factions engaged in the finality of the Soul Wars. Players can expect new rules for the Stormcast Eternals, Daughters of Khaine, Cities of Sigmar, Slaves to Darkness and Idoneth Deepkin. New keywords for factions like the Slaves to Darkness and Cities of Sigmar will also show up.
Four additional boxes will eventually launch alongside Shadow & Pain and compose the rest of Morathi, the initial foundation of the Broken Realms expansion. Each will feature a warscroll battalion showcased in the Morathi book: The Bloodsurf Hunt, Gresh's Iron Reapers, Van Brecht's Black Watch and Kraeth's Shadowpact.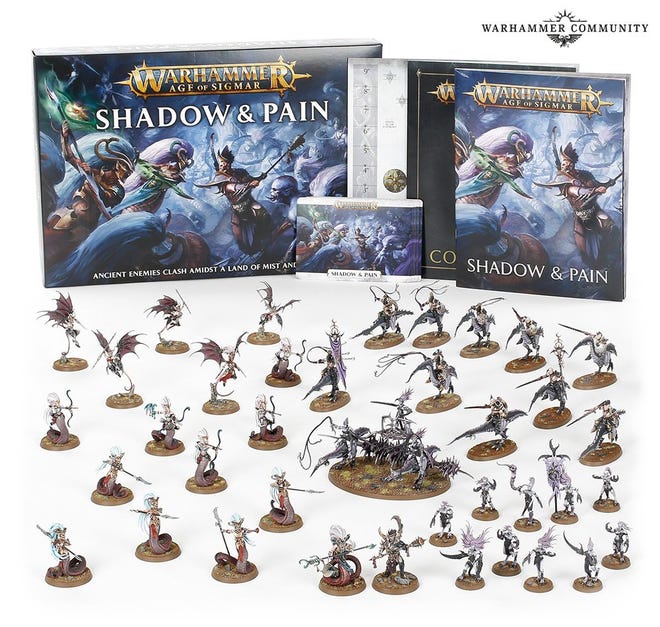 No launch date or additional information on Morathi or the other four books is currently available.
Shadow & Pain is ready to play right out of the box and will cost $170 (£129). It will be available for purchase starting November 14th, according to ICv2.