Here's the first trailer for Amazon's Tales from the Loop series, set in the world of the sci-fi tabletop RPG
Out of the Loop.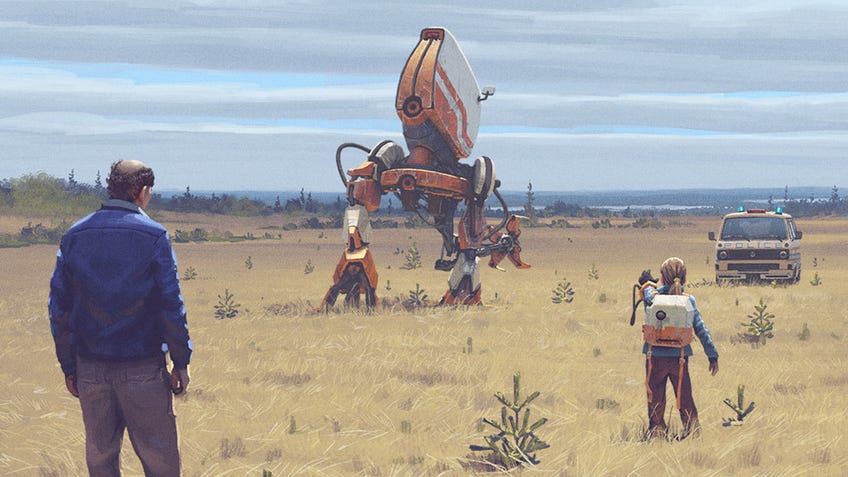 The first trailer for the Amazon Prime series set in the universe of sci-fi tabletop RPG Tales from the Loop has been released.
Tales from the Loop started life in 2014 as an art book by Swedish illustrator Simon Stålenhag, which gathered attention and acclaim for its combination of pastoral small-town settings and futuristic sci-fi technology in an alternate 1980s.
The world's lore revolves around the titular Loop, a particle accelerator that creates otherworldly effects as the result of various experiments.
Stålenhag's art book was later adapted into a tabletop RPG of the same name by designer Nils Hintze and Alien RPG studio Free League Publishing, who released the game in 2017 after a Kickstarter campaign that raised SEK 3,745,896 (£300,00).
The Tales from the Loop tabletop RPG was widely acclaimed upon release, picking up prizes for Best Game, Best Setting, Best Writing and Best Interior Art at the 2017 ENnie Awards.
A sequel to Tales from the Loop set in the 1990s, Things From the Flood, was released in 2016. A Kickstarter for a tabletop RPG counterpart was funded in late 2018, with the Things from the Flood RPG released by Free League last year.
Stålenhag's second follow-up to Tales from the Loop, art book The Electric State, was released in 2017 and has since been snapped up for a film adaptation. It is yet to be adapted into a tabletop RPG. The illustrator is working on a fourth book in the series, currently known under its Swedish title of Labyrinten, though is yet to announce a release date.
An Amazon Prime series based on Tales from the Loop was revealed in 2018, with the upcoming show confirmed to be based primarily on the original Tales from the Loop and Tales from the Flood art books, rather than the RPGs, despite taking place in the same setting. The show is also set in the midwest US, rather than rural Sweden - which serves as the backdrop to most of Stålenhag's illustrations.
The Tales from the Loop TV series stars Game of Thrones' Jonathan Pryce (though arguably his finest appearance is in Brazil, or Tomorrow Never Dies), as well as Rebecca Hall of Vicky Cristina Barcelona fame and Paul Schneider, seen as Mark Brendanawicz in Parks and Recreation.
The first trailer for Tales from the Loop is available to watch now, ahead of the series' premiere on Amazon Prime Video on April 3rd.
See what tabletop RPG releases 2020 has in store with our round-up of upcoming roleplaying games, or check out the best tabletop RPGs you should be playing right now.