Stranger Things-ish sci-fi tabletop RPG Tales from the Loop has a new starter set on the way
Strange days.
Channel the likes of E.T and Stranger Things with the upcoming Tales from the Loop boxed starter set, releasing in time for the imminent Tales from the Loop TV series.
In the Tales from the Loop tabletop RPG, you play '80s teenagers solving mysteries connected to the Loop - an underground particle generator created by the government that causes otherworldly effects.
Tonally, the RPG alternates between the teen's ordinary lives and strange sci-fi mysteries, not unlike Netflix show Stranger Things. You'll pick teenage archetypes, like the Bookworm and the Popular Kid, to play.
The upcoming RPG starter set features everything you need to get started with Tales from the Loop, including an illustrated rulebook, a complete adventure titled The Recycled Boy, five pre-generated characters, a full-colour map and ten engraved custom dice.
Funded on Kickstarter in 2017, the Tales from the Loop tabletop RPG is based on the art book of the same name by illustrator Simon Stålenhag, whose pictures feature mystical machines, surreal beasts and dinosaurs roaming the likes of bucolic 1980s Sweden - and also allude to the Loop itself.
Stålenhag's second art book, Things from the Flood, which takes place in the '90s, was also adapted into a tabletop RPG following a successful Kickstarter. The stakes in Things from the Flood are higher and the tone darker than in its predecessor.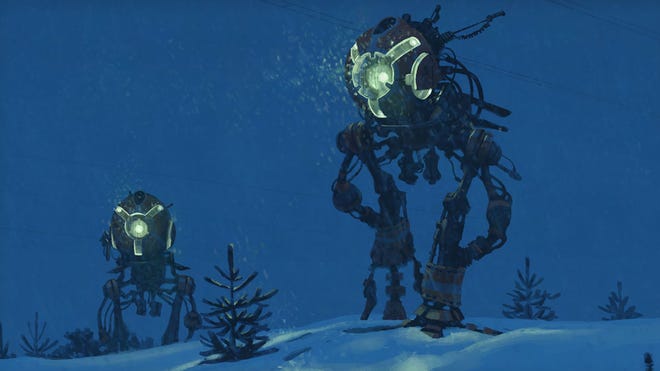 Meanwhile, Stålenhag's most recent art book, 2017's The Electric State is being adapted into a film - although an accompanying RPG is yet to be announced. He is currently working on a fourth book titled Labyrinten, which currently has no release date.
Tales from the Loop is getting its own TV series later this year on Amazon Prime, after being revealed in 2018. It'll be based in the same setting as the RPG, but will draw predominantly on the Tales from the Loop and Tales from the Flood art books over the tabletop game. It will also take place in the midwest US, as opposed to rural Sweden.
The Tales from the Loop RPG is by Swedish publisher Free League, which is behind post-apocalyptic tabletop RPG Mutant: Year Zero, epic sci-fi tabletop RPG Coriolis - The Third Horizon (which it acquired from World of Darkness setting owner Paradox Interactive) and the official Alien: The Roleplaying Game.
The Tales from the Loop starter set will be released in April for $30 (£23) - the same month that the Amazon series is due to premiere.
Check out more of the best tabletop RPGs out right now, or take a look at what tabletop RPG releases 2020 has in store.