Tales from the Loop co-op board game announced, headed to Kickstarter next week
Thrown for a Loop.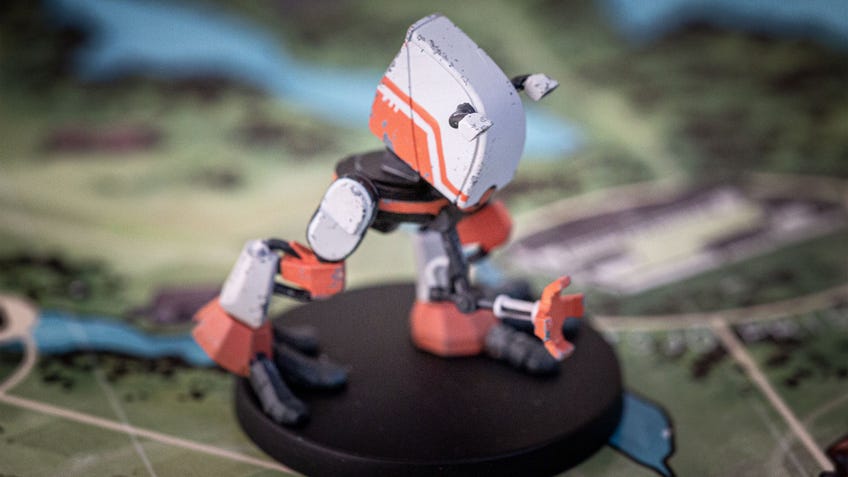 Tales from the Loop is getting a new co-op board game set in the world of the hit sci-fi tabletop RPG.
The upcoming board game based on the successful tabletop RPG was announced on Twitter by studio Free League Publishing, which confirmed that the title would be a co-op board game and take place in the alternative 1980s setting of the RPG.
Free League revealed that the currently untitled project - referred to only as "the Tales from the Loop board game" - would include miniatures created by Dust Studio, the company headed by Italian designer and illustrator Paolo Parente. The publisher is best known for Dust 1974, Parente's alternate-history miniatures wargame.
Get ready! Next Tuesday April 7 at 3 pm CEST, we will launch the #kickstarter for the TALES FROM THE LOOP BOARD GAME, a cooperative board game set in the universe created by @simonstalenhag and with miniatures by Paolo Parente's Dust Studio. pic.twitter.com/EkmhEL5MKs

— Free League Publishing (@FriaLigan) March 30, 2020
Tales from the Loop is based on the 2014 art book of the same name by Swedish illustrator Simon Stålenhag. The art book and 2017 tabletop RPG were followed by a sequel, Things from the Flood, which moved the setting forward to the 1990s.
The third art book in the series, The Electric State, was released in 2017 but has no tabletop RPG adaptation in development. Stålenhag's fourth Loop book, known in Swedish as Labyrinten, is currently in the works with no release date announced.
Tales from the Loop has been adapted into an upcoming Amazon Prime Video series, due to premiere on April 3rd. The television show, which additionally draws from Things from the Flood, is based on Stålenhag's original books rather than the tabletop RPGs.
The Electric State has similarly seen its film rights acquired, with details of its supposedly forthcoming movie adaptation yet to be revealed.
The Tales from the Loop board game will be launching on Kickstarter on April 7th, with a future release date still to be announced. Free League hasn't confirmed whether the co-op board game will be exclusive to Kickstarter; Dicebreaker has reached out to the publisher for further information.
Next month will also see the release of a new starter set for the Tales from the Loop RPG, including the game's core rules, custom dice, pre-made characters and a full adventure.