Disney TCG Lorcana announces 2023 release date, starter decks and booster pack details
Mulan and Hades will be included in The First Chapter when the curious new trading card game finally arrives.
Disney Lorcana has revealed more information about the trading card game's initial offering, including a look at the starter decks, information about booster packs, and an August release date in the US, UK and Europe.
Announced in 2022, Lorcana is a new trading card game from the massive entertainment company that claims to meld the collectability of its iconic characters with gameplay that will satisfy veterans and newcomers. While we still don't know much about the mechanics behind Lorcana, a press release has provided details on what the initial set - called The First Chapter - will contain.
Disney Lorcana's The First Chapter will be available in the US, Canada, UK and several European countries (France, Germany, Austria, Switzerland, Belgium, The Netherlands and Luxembourg) in August of this year. Local game stores in the US will begin selling boosters, starter decks and other products on August 18th, beating out the mass retail release planned for September 1st. Those that attend Gen Con 2023 will be able to purchase cards earlier than anyone else, according to the press release.
The First Chapter will contain more than 200 cards, including those previously teased when Lorcana was initially announced and at last year's D23 event. Three preconstructed, 60-card starter decks will provide an introduction to the game that takes care of the deckbuilding part that Lorcana borrows from nearly every other TCG out there. Each deck will be composed of two of the game's six Ink colours - likely similar to Mana colours in Magic: The Gathering.
Players can choose amongst Amber and Amethyst, Emerald and Ruby or Steel and Sapphire at launch. Looking at promotional images, it's safe to assume the two foil cards included in each starter deck will be the pair of face characters - Moana and Mickey in Amber and Amethyst, Cruella and Aladdin in Emerald and Ruby, and Cinderella and Simba in Steel and Sapphire.
Booster packs will be available to purchase at the same time as the starter decks, and their contents are par for the course in serious trading card games. Each booster will contain 12 cards from The First Chapter, with one guaranteed a foil and another guaranteed to be a rare, super rare or legendary card (Lorcana hasn't detailed its full rarity system yet, but this sounds like the top echelons).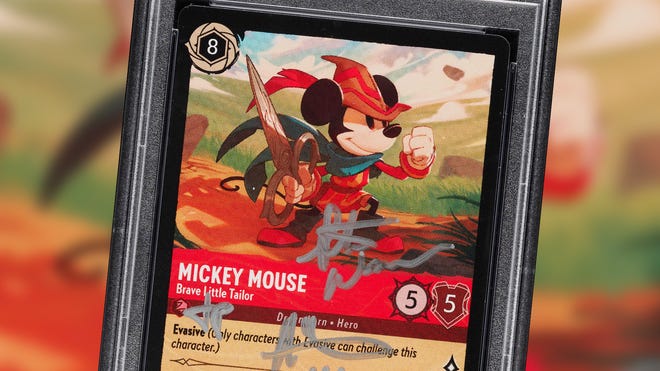 Beyond those, players can expect a promotional Illumineer's Trove, which comes in a storage box akin to Magic: The Gathering's booster bundles, and a gift set that features two as-yet unrevealed cards: Hades - King of Olympus and Mulan - Imperial Soldier. Both show off one of Lorcana's main selling points of imagining Disney's cast of characters beyond the films and series in which they feature, much like alternate universes or the "what if?" conceit often used in larger franchises.
Disney Lorcana has continuously positioned itself as a major player in the trading card game space, saying it will launch in August with robust organised play support. It also doubled down on a promise of four sets per year printed in English, French and German at launch.