Catan is under £23 on Amazon UK, the lowest price it's ever been
With the 25th Anniversary Edition cheaper than ever on Amazon US.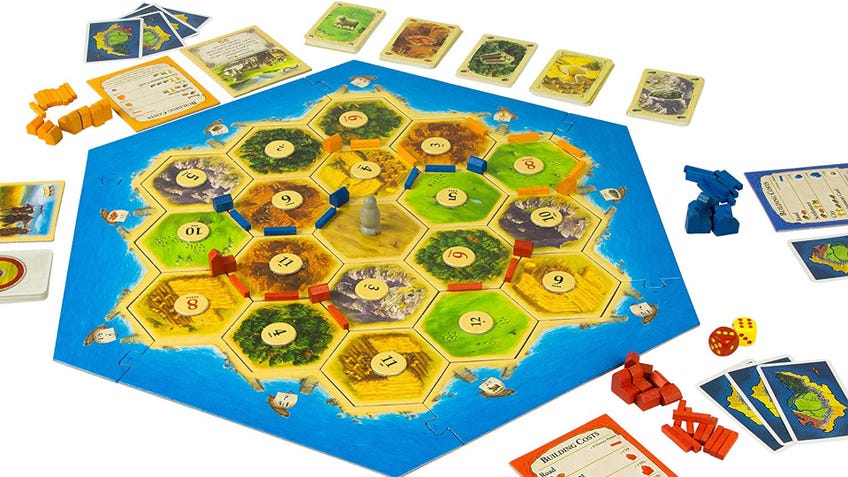 Board game modern classic Catan is currently the best price it's ever been on Amazon UK, giving you the chance to pick up Klaus Teuber's hit game of trading and expansion for under £23.
Released in 1995 under the name of The Settlers of Catan, Catan sees players collecting resources such as wood, sheep and brick by rolling dice, before using those same resources to build new settlements and roads across this island. They can collect resources from any of the numbered hexes they have a settlement next to, and trade resources with other players or ports around the edge of the island to get what they need.
Catan's RRP is almost £40, making Amazon UK's current price of £22.99 almost half price - as well as the lowest price yet for the base game on the website, according to price tracker CamelCamelCamel. It's worth noting that's for the fifth edition of the game, which comes with wooden pieces instead of the plastic ones in previous editions. If you're looking to pick up any of the game's expansions, be sure to check they're compatible with the revised components.
While the original Catan isn't currently on sale on Amazon US, its recent 25th Anniversary Edition has been reduced to its lowest price yet (as per CamelCamelCamel). Bundling the base game together with its 5-6 Player Extension, as well as the Helpers of Catan scenario pack, the set also includes upgraded components in the form of special edition iridescent wooden pieces, card sleeves and storage trays.
Catan's 25th Anniversary Edition is 33% off on Amazon US, down from its RRP of $80 to $53.86 - the best price it's been to date.