Pirate board game Forgotten Waters' voice cast includes Dragon Ball Z, My Hero Academia and Red vs. Blue stars
Anime actors narrate latest game from Dead of Winter creators.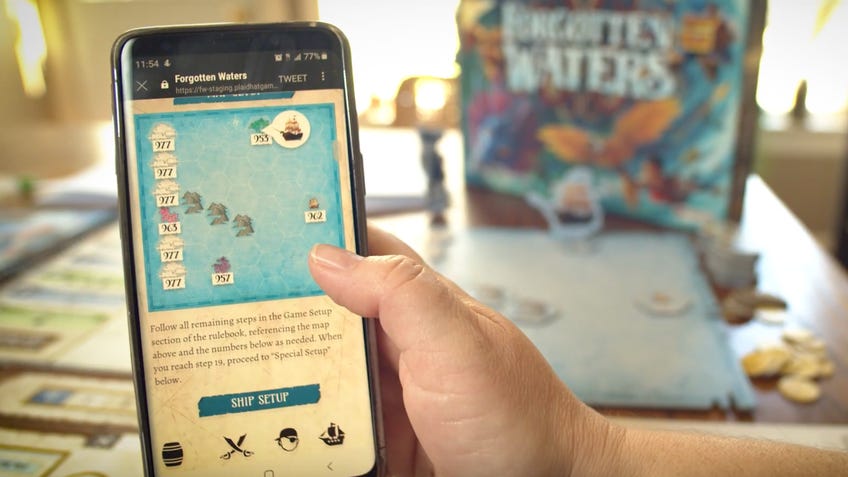 The voice cast for Forgotten Waters, the upcoming board game from the creators of Dead of Winter, has been revealed - and it boasts some surprisingly big names.
Forgotten Waters is the latest release from Plaid Hat, the studio behind co-op board games Dead of Winter, Mice and Mystics and Stuffed Fables. The board game will be the first release from the publisher since its return to being an independent company earlier this year.
Designed by Dead of Winter co-creator Isaac Vega alongside Mr. Bistro and Arthur Ellis, creators of spin-off card game Raxxon, Forgotten Waters is the latest entry in the Crossroads series started by Dead of Winter and continued by 2018 sci-fi survival game Gen7.
In Forgotten Waters, three to seven players are pirates charting the waves in search of infamy and fortune. As in the other Crossroads games, the game features branching narrative decisions for players to make; whereas in Dead of Winter and Gen7 the events and potential outcomes were handled by decks of cards, Forgotten Waters uses a free companion app to throw up various encounters and while players explore the high seas.
The companion app's entries feature background audio and narration from a cast of voice actors, including some notable names from the worlds of anime, video games and web series.
Leading the cast as the companion app's narrator is Christopher R. Sabat, a familiar name to fans of popular anime TV series Dragon Ball Z, in which Sabat has provided the English voices of Vegeta, Piccolo and other major characters for over 20 years. Sabat has English dub credits in other popular anime series such as One Piece and My Hero Academia, as well as popping up in dozens of other films, shows and video games.
Our #ForgottenWaters narrator @JustChrisSabat taught us what a #boothie was on the newest episode of the Plaid Hat Podcast. https://t.co/ByIkrV7XT3 pic.twitter.com/pKkxKGaeCo

— Plaid Hat Games (@PlaidHatGames) April 8, 2020
Reuniting with Sabat is fellow Dragon Ball Z actor Monica Rial, who has provided the English voice of Bulma since the show's 2010 remake Kai. Rial has also appeared in My Hero Academia as Tsuyu Asui. In Forgotten Waters, Rial voices the excellently-named Claudia Stroopwafel.
Sabat and Rial are joined by a number of other actors from anime series, including Markus Lloyd as Benjamin Okoro, Anairis Quinones as Raeni Swift and Michelle Rojas as Bonnie Calhoun. Between them, the cast have credits in films and shows including Dragon Ball Super, Fullmetal Alchemist, RWBY, Tokyo Ghoul and Assassination Classroom.
Providing the voice of Jesbut J. Vance is SungWon Cho, also known as ProZD. The YouTuber, actor and comedian is best known as a member of comedy outlet Rooster Teeth, and stars in online web series including the popular Halo animation Red vs. Blue, in which SungWon plays Atlus Arcadium Rex.
Forgotten Waters is due to release on April 10th. The game's free companion app is available now on PC, and can be accessed using a mobile device or downloaded to play offline. You'll still need the physical board game to play, mind.