Marvel Champions' first big expansion The Rise of the Red Skull adds new campaign mode
Hawkeye and Spider-Woman join the roster.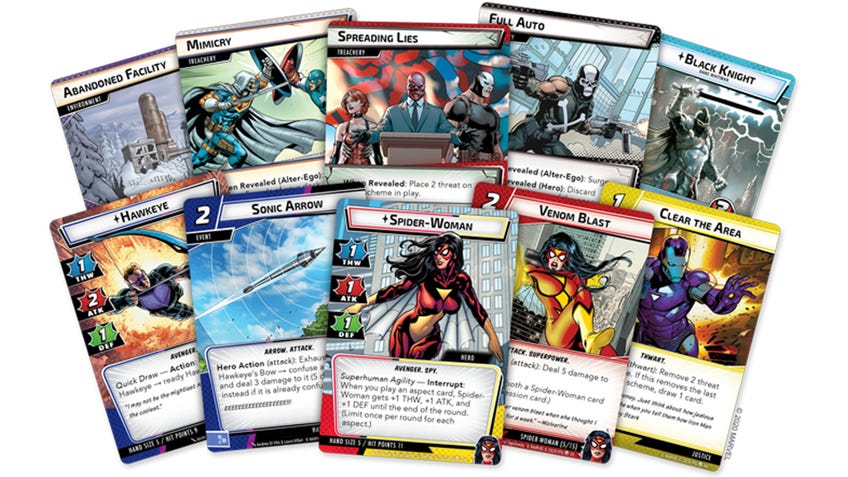 Unite a team of superheroes and save the world from the clutches of Hydra in The Rise of the Red Skull, the first expansion for living card game Marvel Champions: The Card Game.
Based on the comic book franchise, Marvel Champions has its players becoming a band of superheroes sworn to protect humanity from the evil machinations of villains such as Ultron and the Rhino. Featuring characters such as Spider-Man, Iron Man and Captain Marvel - as well as their respective alter-egos - Marvel Champions tasks its players with working together to thwart schemes, battle henchpeople and defeat the big bad of each scenario.
Each player gets a deck which - depending on the character the player has chosen - contains cards to help deal damage, prevent the villain from furthering their schemes, provide buffs to teammates and more. Throughout the game players need to coordinate their attacks to maximise their effectiveness, all whilst ensuring that their fellow players' health, and their own, doesn't drop too low, otherwise they run the risk of losing the game.
After every player turn comes a villain phase, in which the active player must draw encounter cards equal to the current difficulty setting and trigger any events brought about by schemes or the villain entering its next stage. The players must survive this phase to continue playing, with the aim being to reduce the villain's health to zero.
The Rise of the Red Skull expansion sees players taking on a new threat in the form of the nefarious organisation Hydra. Introducing five new villains to Marvel Champions - including Crossbones, Taskmaster, Zola, Absorbing Man and, of course, the Red Skull - the upcoming board game expansion allows players to tackle each of these foes individually or take on all of them in a new campaign mode.
In campaign mode, players must defeat each of the enemies featured in Rise of the Red Skull in turn, following a narrative that sees the superheroes tackling an unexpected attack on Project P.E.G.A.S.U.S. by Crossbones, only to discover that the threat is far greater. In working their way through each scenario players must make decisions that ripple through the entire campaign, and eventually face off against the head of Hydra and mastermind: the Red Skull.
Joining the current roster of Avengers and other Marvel heroes are elite archer Hawkeye and elusive warrior Spider-Woman, each bringing their own unique set of cards and abilities to the table.
Specialising in leadership, Hawkeye provides players with a wealth of powerful cards to utilise, including an alternative version of Hawkeye - Kate Bishop - who can deal considerable amounts of damage if players are willing to discard cards. Hawkeye also comes with an arsenal of arrows for players to equip, such as powerful explosive arrows that can clear out entire groups of enemies, but at the cost of exhausting Hawkeye's signature bow.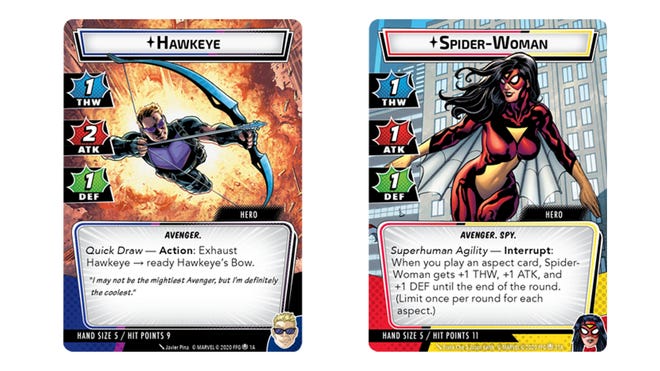 Spider-Woman is a Marvel Champions hero who focuses on aggression and justice aspects, providing a balance of attack potential and opportunities to thwart villainous schemes. As alter-ego Jessica Drew, players are able to place two types of aspect card into their deck before the start of the game, instead of just one. On top of this, Spider-Woman's special ability enables her to gain +1 bonuses to her base stats, which she is able to do twice thanks to her identity as a double agent.
Publisher Fantasy Flight Games' reveal for The Rise of the Red Skull also teased a series of expansion packs planned for the coming year - including a scenario pack in August and four additional hero packs due to release in September, October, November and December 2020.
Fantasy Flight - maker of horror board game Arkham Horror and unique deck game, Keyforge - recently announced that it would be delaying all upcoming board games by at least a month in response to the current COVID-19 pandemic.
Marvel Champions: The Rise of the Red Skull will release sometime in 2020.