Quest RPG gets two official adventures: a light-hearted murder-mystery and skeleton cook-off
No bone to pick here.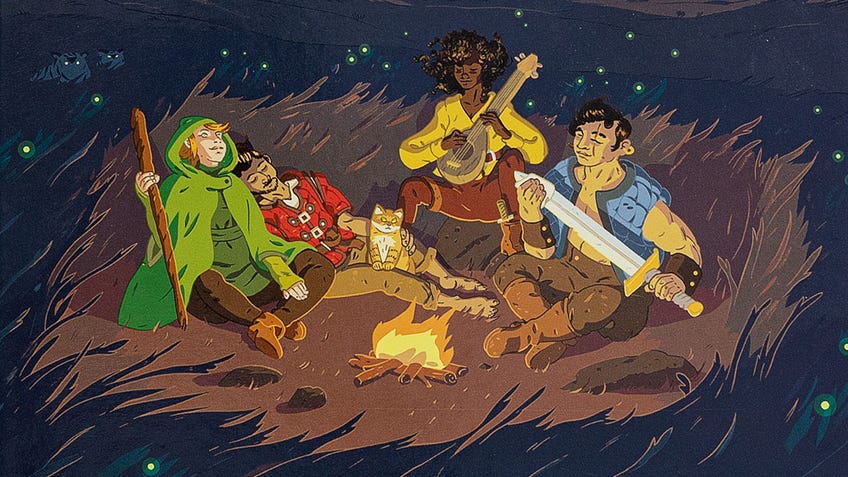 Two official adventures for the roleplaying game Quest, featuring a train murder-mystery and undead cooking, have been announced.
The adventures will be the first in a series of new content created by third-party authors and artists, with more from other creators on the way. Both adventures are designed to take place over one to two sessions of Quest, with digital and physical versions to be made available.
In Good Company is set on a moving train that has been hired out by an ambitious merchant's guild celebrating their first annual company retreat - a premise seemingly similar to the 2013 train-set film Snowpiercer. In the adventure, players will take the roles of security guards who are initially under the impression that the job will be an uneventful affair. However, after one of the guests aboard The Icebreaker Express reveals their deadly intentions, players must untangle the murderous plot and discover the identity behind the killer, all whilst partaking in a number of mandatory team building exercises.
The other adventure for the rules-light roleplaying game is Bone Appétit!, which sees players venturing into the land of Garlic Graves. The people of Garlic Graves are celebrating a Harvest Festival in which both the living and the dead cook and eat together. Two skeleton husbands are getting ready to feed the guests of their 1000th anniversary dinner and, with so much to do, they ask the players to help them prepare. But with the recipes requiring ingredients such as "storm gourds" and "cheese of decay", players may have their work cut out for them. Not to mention having to deal with the machinations of a rival chef.
In Good Company was co-created by Brian David Gilbert, former video producer for video games website Polygon, and Karen Han, a staff writer at Slate and contributor to The New York Times, The Atlantic and Vanity Fair.
Lucian Kahn - designer of Visigoths & Mall Goths, Dead Friends: A Game of Necromancy and If I Were a Lich, as well as co-editor of the erotic RPG anthology Honey & Hot Wax - and Sonya Henar, a character designer and illustrator for Swordsfall, Tales of Barbearia and The Princess Project, are the co-creators of Bone Appétit!
Quest is an accessible fantasy roleplaying game created by TC Sottek and published by The Adventure Guild in 2019. A spin-off card game called Queens - which exists in the world of Quest - was announced last November. The competitive card game supports two to four players and sees competitors using a deck of identical cards to reveal their opponents' queens, whilst protecting their own by forcing the other players to remove their various cards. A Kickstarter campaign for Queens is set to be launched sometime this year.
In Good Company and Bone Appétit! are both set to be released during 2021, with a retail price yet to be confirmed.