Beginner-friendly RPG Quest is now available to schools, libraries and counsellors for free
+1 to Learning.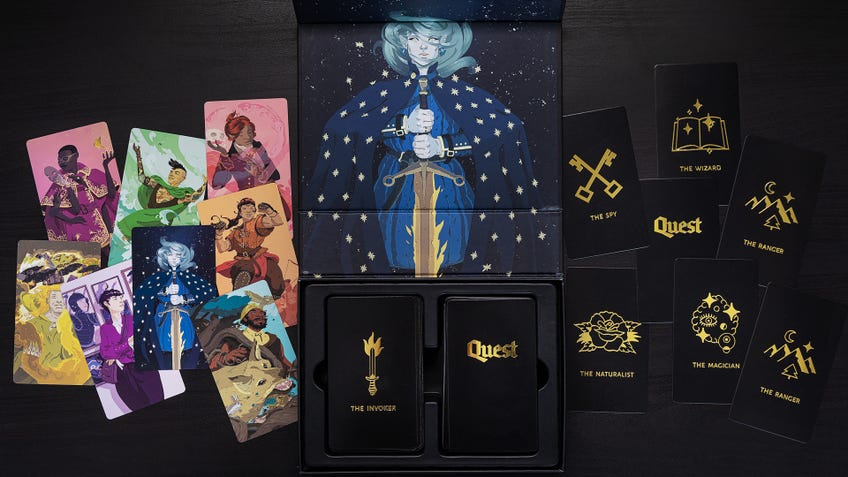 Libraries, schools, counsellors and other public educators can now receive a copy of accessible roleplaying game Quest entirely free of charge.
Those working in public schooling institutions across the world can apply for a free digital edition of Quest's core rulebook by requesting a copy directly from the designers by emailing support@adventure.game using their school email address.
Anyone running an after-school programme at a public school for students from low-income backgrounds can also apply for a free physical copy of the Quest game book. The option to request the physical book is only available to educators within the US.
As Johnny noted in our review, Quest is a beginner-friendly fantasy RPG that provides a straightforward ruleset for both game masters and players to tell stories with. With character sheets that emphasise personality over statistics, and a world-building system that encourages creative storytelling over geographical details, Quest markets itself as being accessible above all else.
In an interview with Dicebreaker earlier this year, Quest creator TC Sottek explained that the RPG was inspired by the recent wave of actual play podcasts such as The Adventure Zone and Critical Role: "The goal early on was to create a system that helped people have an epic fantasy experience like the ones they were hearing on popular shows."
The free release of Quest for teachers follows a recent blog post regarding the future of the rules-light RPG, in which Sottek expressed a desire to offer a community-driven marketplace for the game - enabling creators to create their own versions of the core rules and make third-party adventures.
The Quest creator finished the post by outlining plans to expand The Adventure Guild - the publishing company behind Quest. "I will be hiring people who want to expand the market for tabletop roleplaying games in a way that expresses strong values," said Sottek.
In April, Sottek announced the first official setting for Quest. The Reach is described as a "story sandbox" in a doomed world with six opposed factions that the players can choose to align themselves with. With only so much time before a narrative climax, the group won't be able to help every faction - leading to some hard choices and branching story paths. The Reach will be released for free, with the world's geography left undefined to allow players to map out the setting.
More details on how educators can apply for a free copy of Quest can be found on the roleplaying game's website.