Lorcana cards could include characters from Disney shorts in the future, as Ravensburger outlines a 10-plus-year plan for the TCG
From Paperman to card?
Disney Lorcana cards could extend past Disney's library of feature movies to include elements from the animation giant's catalogue of short films.
That's according to the global head of games at Lorcana publisher Ravensburger, Filip Francke, who confirmed to the LA Times that the studio has permission to turn anything seen in any of Disney's movies or shorts into a future Lorcana card.
While a number of Disney shorts star familiar characters from the studio's feature films, original shorts include the likes of Paperman, the 2012 black-and-white story of a piece of paper drifting between two would-be lovers. Director John Kahrs' short was shown ahead of Wreck-It Ralph in cinemas and became Disney's first animated short to win an Oscar in over 40 years.
Older shorts include Disney's early Silly Symphonies, a series of 75 shorts set to music that debuted with 1929's Grieg-scored The Skeleton Dance and ran until 1939's The Ugly Duckling, which won the Academy Award for Best Animated Short Film. Silly Symphonies typically eschewed popular characters such as Mickey Mouse in favour of original characters and concepts, several based on existing folk or fairy tales.
Francke added that Lorcana - which launched last Friday with the release of debut set The First Chapter in local game stores, following a limited pre-release at Gen Con - currently has plans for over 10 years of content and releases. The card game's second set, The Second Chapter, will land this November following the wide release of The First Chapter on September 1st.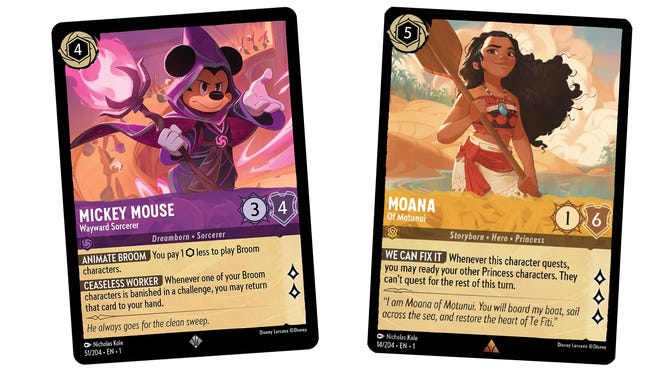 The LA Times interview with co-designer Ryan Miller also reveals that Lorcana went through an iteration with a classic heroes-versus-villains format, where 'good' and 'bad' characters could only battle their direct rivals. (Another early version apparently felt like a "coding game".) Despite being "very thematic", Miller said that the good-versus-evil "game was not very fun", eventually leading to Lorcana's current incarnation as a simpler showdown between all of the characters from across Disney's dozens of movies.
"I think the reason it took so long to get where we got was that specific target we were trying to hit - to do something that we feel is welcoming, and strategically exciting for trading card gamers," Miller said.