Starfinder bundle includes rulebooks, adventures and bestiaries to get you started in the sci-fi RPG from £10
Save some galactic credits.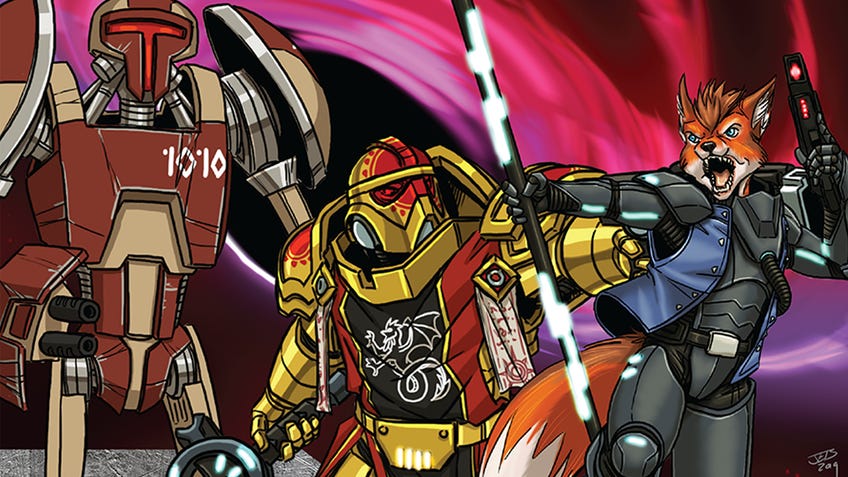 The latest Bundle of Holding is offering a set of supplements and sourcebooks to get you started with sci-fi tabletop RPG Starfinder from just £10.
Released by publisher Paizo in 2017, Starfinder shares its universe with long-running fantasy RPG Pathfinder, albeit set in the far-flung future. Its gameplay rules are also based on Pathfinder - itself based on Dungeons & Dragons 3.5 - but with a number of additions to suit the sci-fi setting, including starship combat, and improvements to help simplify the ruleset, several of which were carried into the rules for last year's second edition of Pathfinder.
The Starfinder Empires Bundle of Holding features a starter collection of third-party supplements that can be used with the RPG's core rulebook to provide players with further options when it comes to playable alien races, monsters and adventures.
The set - usually worth an estimated $66, but available for $12.95 (£9.79) as part of the deal - includes the Starfarer's Companion rules supplement, beginner-friendly scenario Blood Space and Moon Dust, as well as an Alien Bestiary with 300 additional creatures for players to encounter and the Cosmic Race Guidebook, including two dozen additional races for players to pick from when creating a character.
An additional bonus collection can be had alongside the starter set for the current threshold price of $25.45 (£19.23) or more, nabbing an estimated $72 worth of extra books. The seven titles include rules on creating an interplanetary civilisation in the Star Empires Compendium, additional information on Service Bots and Synthetic Companions, an Advanced Skill Guide, campaign Pirates of the Starstream and a trio of world books in the Blood Space Gazetteer series.
10% of proceeds from the bundle will go toward Direct Relief, a charity that provides protective equipment and medicine for health workers, including those involved in battling the COVID-19 pandemic.
The Starfinder Empires Bundle of Holding is available until December 1st.