Warhammer: Age of Sigmar's 2020 General's Handbook brings multiplayer team battles to the minis game this week
Alongside aerial combat rules and expanded narrative play.
The 2020 General's Handbook for Warhammer: Age of Sigmar is releasing later this week, updating Games Workshop's fantasy miniatures game with new rules, game modes and improvements, including the ability to play multiplayer team battles.
This year's General's Handbook is the latest annual update for Age of Sigmar, with the softback book designed to expand on the rules in the game's core manual. 2019's additions included an army generator for open play matches, additional terrain setup rules, dedicated rules for faster close-quarters battles and the option to introduce hidden objectives to each side of a clash.
Perhaps the most significant addition in the upcoming rulebook is the Open War Coalition Battle Generator. The ruleset introduces the option to play multiplayer games with three or more people, split into teams. Each player controls a different Age of Sigmar faction, with the book containing a table to consult for possible matchups. While the players on each team will work together to achieve a team victory, each person also has an individual objective to complete. The multiplayer rules are compatible with all three of Age of Sigmar's game modes: open, matched and narrative.
The 2020 General's Handbook also features rules for aerial battles between flying monsters and vehicles. The Skies of Slaughter section collects rules previously released in Games Workshop's magazine White Dwarf, along with scenarios known as skybattles, warscrolls and the ability to play multiple games in a connected campaign.
Among the updates to Age of Sigmar's existing game modes are additional multiplayer rules for narrative play, including the new Whisper Engine campaign mode that sees players wrestling over control of a map. The Whisper Engine is designed to be played with between four and seven players, including the option to add a game master. The team battle rules can also be used in the multiplayer Coalition of Death battleplans, while the Anvil of Apotheosis allows a player to create a unique hero character to lead their armies in a story-driven campaign.
Matched play, meanwhile, is expanding with new Meeting Engagements - battles catered to small setups aimed to wrap up in under 90 minutes. The mode includes tournament rules and six battleplans. The 2020 General's Handbook also brings updates to the points allowances and army sizes for matched play's Pitched Battles, plus a dozen additional battleplans for the playstyle and the ability to play a team two-on-two Coalition of Death Pitched Battle.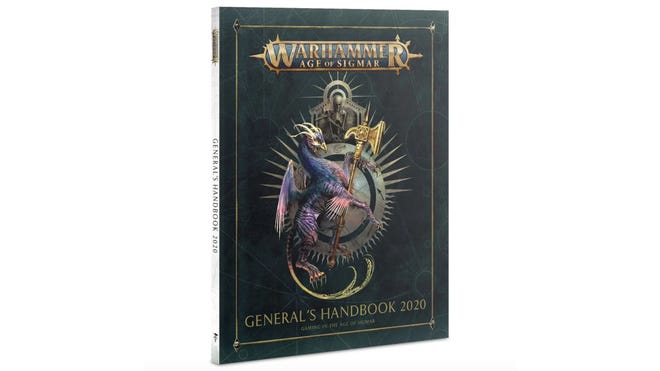 Other additions in the book include updates to the open war army and terrain generators for randomised play, tournament packs for various modes and a separate booklet advising on Pitched Battle point values, unit sizes and battlefield roles.
The 2020 General's Handbook will be released on July 11th. As well as the standard £20/$35 version, there'll be the £45 limited-edition Warlord Edition that adds accessories including tokens and reference cards.
Games Workshop confirmed the update will come to the premium Warhammer: Age of Sigmar mobile app Azyr in the future, following development on the Warhammer 40,000 app ahead of the sci-fi game's ninth edition release later this month. (See what Johnny thought of the upcoming Indomitus box in his review.)