Warhammer games including Dawn of War, Vermintide and Gladius are up to 80% off on PC
Including plenty of Warhammer 40,000 spin-offs, plus fantasy board game Warhammer Quest.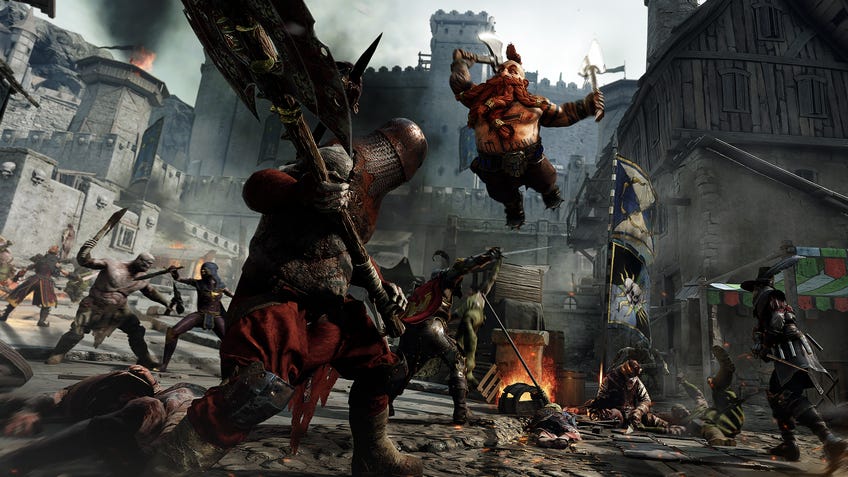 A number of PC games set in the Warhammer 40,000 universe are currently up to 80% off as part of a week-long Warhammer sale on the Humble Bundle store.
The discounts include 75% off Warhammer 40k spin-offs such as popular real-time strategy trilogy Dawn of War and third-person shooter Space Marine, as well as the Left 4 Dead-ish co-op game Vermintide 2 set in the fantasy Mortal Realms of Warhammer: Age of Sigmar. All three of the Dawn of War titles are up for grabs, as are both the original End Times - Vermintide and its recent sequel, along with a number of DLC packs for the games.
Warhammer Quest, the digital adaptation of the dungeon-crawling board game set in the original Warhammer fantasy universe, has also been reduced by 80% to £1.99.
Other games in the sale include bloody action-RPG Warhammer 40,000: Inquisitor - Martyr, discounted by 66% to £11.55, and Gladius: Relics of War, a Sid Meier's Civilization-esque turn-based strategy game set in the 40K universe. That's currently reduced from £30.99 to £10.84, a saving of 65%.
Squad-based title Warhammer 40,00: Space Wolf is also included in the sale, slashed from £17.99 to £5.39.
Several of the games are Game of the Year and 'master collection' bundles that include many of the released expansions and content packs for the titles. All of the games are compatible with Windows via Steam, while a few - but not all - are also supported by Mac and Linux.
The Warhammer sale runs on the Humble Bundle store until next Thursday, November 12th. As with all of Humble Bundle's offerings, a portion of the money will go toward charity.