Gloomhaven's big 2020 expansion gets a cool name: Frosthaven
Are you yeti for winter?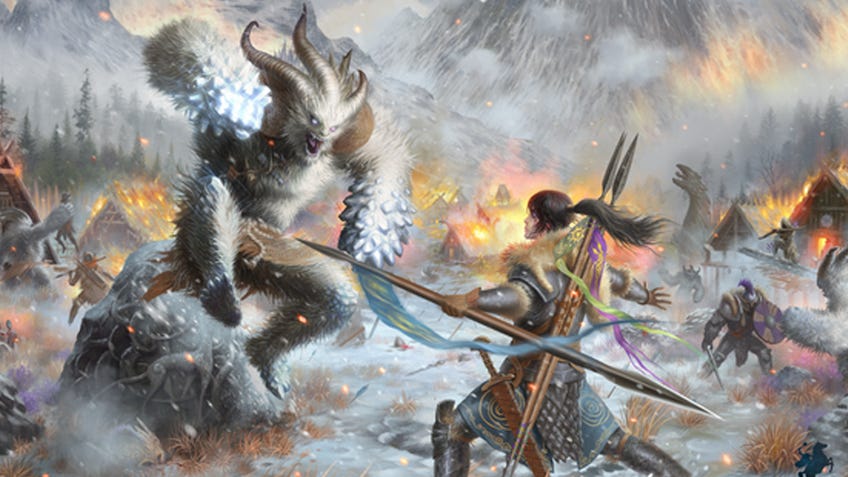 A new expansion for popular dungeon crawler Gloomhaven is arriving on Kickstarter in March next year, according to a newsletter sent out by creator Isaac Childres.
Titled Frosthaven, Childres has alluded to the expansion for around three years. He describes it as Gloomhaven 2.0, and has revealed that it includes 16 new characters, 25 new enemies and over a hundred new scenarios.
Frosthaven refers to a small outpost to the north of Gloomhaven capital city White Oak, recogniseable from the first game. Playing a group of mercenaries, you will help bring the settlement back from the verge of destruction. Meanwhile, you'll have to survive both the icy elements and whatever terrors lurk in the frozen wastes.
These include Algox, the more yeti-like cousins of Gloomhaven beasties the Inox, deadly aquatic creatures the Lurkers, and unknowable machines that roam the arctic plains.
There's also a chance that you'll have to make peace with some of the new races, so you can work together to defeat a greater threat.
The new Frosthaven expansion is currently being advertised at board game conference PAX Unplugged.
Oh my, what is this? #PAXU #Frosthaven pic.twitter.com/ltZbfMWNWH

— Isaac Childres (@Cephalofair) December 4, 2019
Further details will be revealed when Isaac speaks to Dice Tower's Tom Vassel at the event this upcoming Saturday.
The Frosthaven announcement follows recent news of imminent newcomer-friendly Gloomhaven standalone expansion Jaws of the Lion: a cheaper, smaller and less dense version of the original Gloomhaven game featuring new characters and stories.