Mörk Borg's Putrescence Regnant is a grim 'bog crawl' adventure releasing as a vinyl music album
From creators of RPG LP Death Robot Jungle.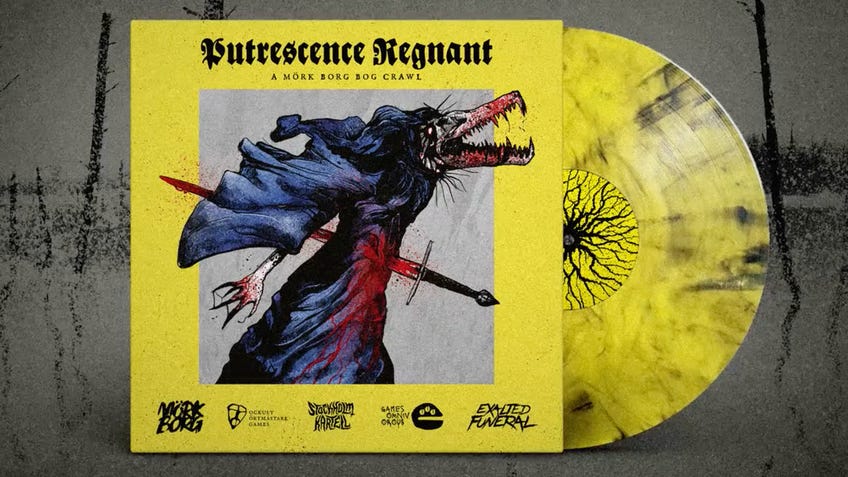 Bleak tabletop RPG Mörk Borg is getting a new adventure releasing as a vinyl album, complete with a built-in GM screen and narration from the star of indie video game Darkest Dungeon.
Putrescence Regnant combines a complete LP soundtrack, a "bog crawl" adventure - including details on various locations, creatures and encounters - and even a GM screen, in the form of the album's gatefold sleeve.
The record includes an eight-page booklet that lays out the region of Targ-Dungel and hamlet Traurish, along with 20 smaller locations that players can explore during their travels.
The insert also provides information on three different factions with whom the players can choose to side (or oppose): the twisted king-serving nobles under the banner The Scions of Schleswig, who clash with the decay-worshipping Mudmaster's Cult and the Algae-Rots, an undying group of alligator-headed ghouls.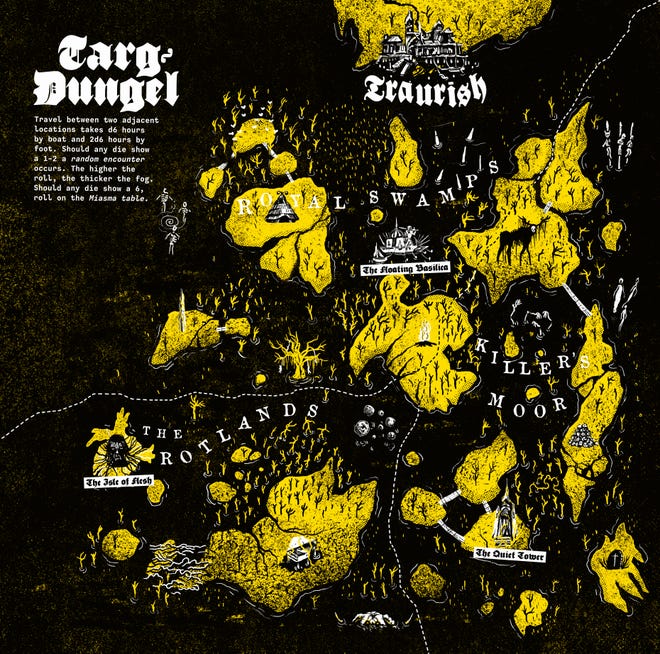 Putrescence Regnant's inner sleeve doubles as a map of the vast bog, as well as displaying a roll table for random encounters in the three regions of the swamp and new gameplay rules on traversing the disgusting terrain - or capsizing and drowning in its waters.
The vinyl itself is yellow-and-black marbled wax, featuring music by Andre Novoa and Manuel Pinheiro. The duo previously created Death Robot Jungle, a setting-agnostic tropical sci-fi setting that similarly released as an LP combining lore info and music.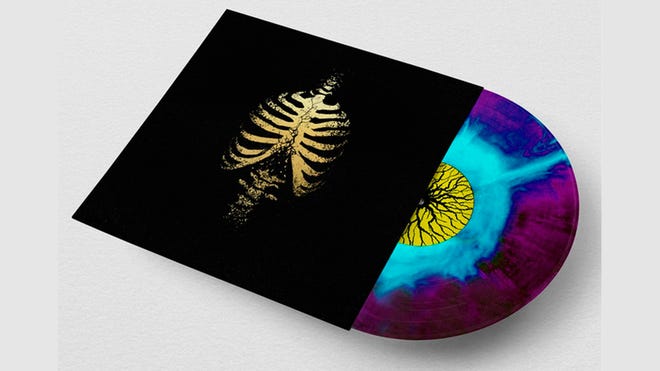 Putrescence Regnant's soundtrack will similarly be a mixture of heavy guitars, hard-hitting drums and looping synths, culminating with a spoken-word recitation of the Nameless Scripture's Prophecy by Wayne June, the distinctive narrator of similarly bleak video game Darkest Dungeon.
One of the tracks can be heard on the Kickstarter page, and lines up with its creators' promise that the album will be "dark-themed, ear-shattering, ambience-driven, drone-fueled and noisy. Very noisy. Non-wedding-friendly type of noisy." Additional tracks will be added as stretch goals based on the campaign's success, with backers getting a digital version of the album in addition to the physical record.
Putrescence Regnant will see a normal print run, with its Kickstarter campaign currently offering a limited-edition cover ahead of its launch. The album-and-adventure combo is due for release next April, with the already funded crowdfunding campaign running for another two weeks.
Kickstarted in 2019, Mörk Borg released earlier this year - accompanied by an official doom metal playlist - and has since gone on to scoop widespread acclaim for its fairly rules-light approach to gameplay despite the heavy visuals and atmosphere. During the summer, the RPG picked up awards in four categories at the 2020 ENnie Awards, taking the top prizes for Product of the Year, Best Writing and Best Layout and Design, and second place in Best Game. Dicebreaker's own Wheels picked the game as one of the most beautiful RPGs ever released.
p>