Pathfinder 2E announces first Mwangi Expanse Lost Omens sourcebook and next Adventure Path for RPG
Exploring African-inspired region of fantasy world.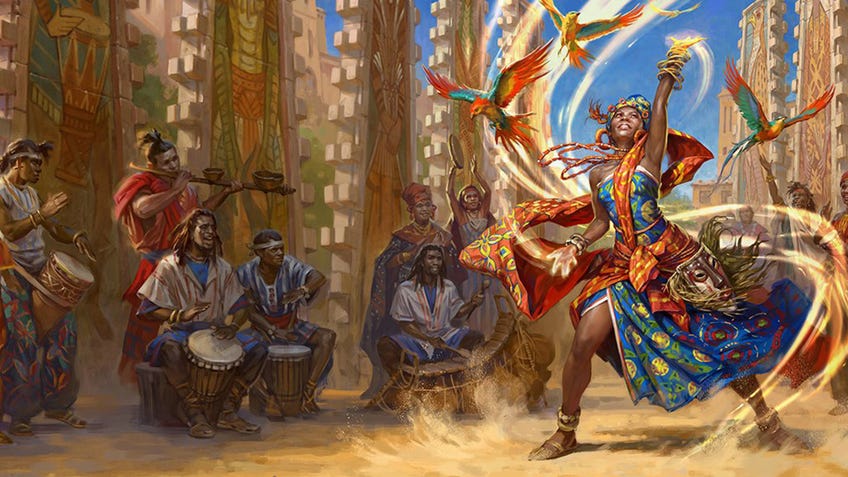 The next Lost Omens sourcebook and Adventure Path campaign for fantasy RPG Pathfinder have been revealed by publisher Paizo at this year's PAX Online x EGX Digital, ahead of their release next summer.
In an announcement panel at the virtual convention - which is organised by Dicebreaker parent ReedPop - Paizo developers Ron Lundeen and Luis Loza, along with freelance designer Allie Bustion, who worked on the upcoming book, confirmed that the next Lost Omens sourcebook would detail the region of the Mwangi Expanse.
While the Mwangi Expanse has been mentioned in previous Pathfinder releases, Lost Omens: Mwangi Expanse is said to be the first book to delve deeply into the region partially inspired by African folklore.
The book is confirmed as being more than 300 pages in length, and will include background on the area's magical history, as well as including rules for six new ancestries for player characters: Gnoll, Anadi, Grippli, Goloma, Conrasu and Shisk.
Did you miss the #Pathfinder Lost Omens Annoucement Panel yesterday? It is available now at #PAXOnline here: https://t.co/TCUQb0seuW pic.twitter.com/UoirBPeWa0

— Paizo (@paizo) September 13, 2020
The Lost Omen sourcebook for the Mwangi Expanse will be released in June 2021, ahead of the next Adventure Path campaign for the RPG, which will similarly be set in the region.
Strength of Thousands follows the Fists of the Ruby Phoenix Adventure Path, due to take place between April and June 2021. Strength of Thousands will run in six monthly parts between July and December 2021, taking player characters from first level to level 20.
The Adventure Path is set in the Magaambya magic academy in the Mwangi Expanse, with players' characters becoming students at the school of magic.
All characters will receive a bonus spellcasting ability to reflect the story which [light spoilers for Strength of Thousands follow] sees them progress from being students to becoming teachers and ultimately deciding the fate of the school.
Find out more about the upcoming sourcebook and campaign by watching the Pathfinder announcement panel below. You can find the full PAX Online x EGX Digital schedule here.