The Quacks of Quedlinburg's second expansion has players curing nightmares and hysteria
A new brew.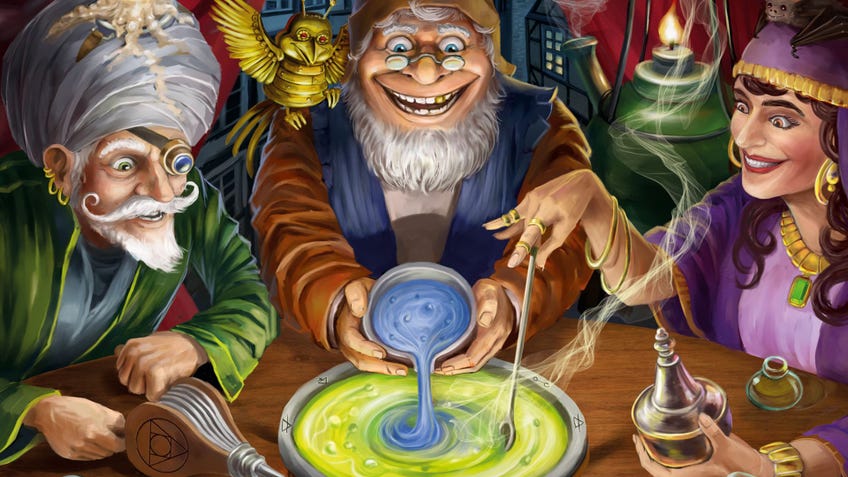 Free villagers' minds from night terrors, obsessions and irrational thoughts in Die Alchemisten, the next big expansion for The Quacks of Quedlinburg.
Die Alchemisten - or The Alchemists, when translated into English - is the latest expansion for the potion-brewing board game released in 2018. The upcoming expansion sees players entering laboratories, using the available tools to distill rare essences into solutions to the villagers' various ailments. (Thanks, BoardGameGeek.)
However, the villagers' problems are no longer restricted just to the body, as patients are now complaining of experiencing terrible dreams, obsessions with odd things and thoughts that are otherwise out of the ordinary. Players will now be able to brew and sell potions intended to help with these new ailments.
The Quacks of Quedlinburg - a firm favourite of Dicebreaker's own Alex Lolies - sees two to four players assuming the roles of charlatan healers, who claim that they can cure the illnesses of the common people using their special potions. As players create and brew their various wares, they must ensure that their mixture remains stable - or otherwise risk their entire pot exploding and their business suffering for it.
Every player begins the game with their own bag filled with ingredients tokens, which have varying values that determine how effective the completed potion is going to be. Each turn, players simultaneously draw ingredients from their bag and place them on their board, with stronger ingredients enabling players to claim victory points and gain more ingredients at the end of the round. Push their luck too much and the players may cause their mixtures to explode by drawing cherry bombs, reducing their possible rewards.
The first expansion for Quacks of Quedlinburg, The Herb Witches, was released last year and increased the maximum player count to five people, as well as adding herb ingredients and additional recipe books to the game.
Wolfgang Warsch is the designer behind the Quacks of Quedlinburg series, including The Alchemists, having also created co-op game The Mind and co-designed last year's party game, Wavelength.
The Alchemists expansion is being published by Schmidt Spiele, the German publisher that's responsible for releasing Warsch's Ganz Schön Clever roll-and-write games, including the newly-announced third entry in the series: Clever Hoch Drei.
According to its listing on BoardGameGeek, The Quacks of Quedlinburg: The Alchemists is set to be released later this year, with Schmidt Spiele yet to confirm an official release date.