Pathfinder is getting a Diablo-like hack-and-slash video game based on the RPG's most popular adventure
Abomination Vaults is headed to Kickstarter later this month.
Pathfinder's next video game adaptation will be a Diablo-like co-op action RPG based on the tabletop RPG's most popular campaign.
Pathfinder: Abomination Vaults looks to be a top-down ARPG in the vein of Diablo, Torchlight and classic D&D spin-off Baldur's Gate: Dark Alliance.
Canadian developer BKOM, who previously made Dungeons & Dragons video game Tales from Candlekeep: Tomb of Annihilation, described the video game as a "co-op-forward hack-and-slash" with multiplayer for up to four players. Those players will take on the roles of 'iconics' from the Pathfinder universe, who first made their debut as pre-generated characters for the tabletop RPG, including barbarian Amiri and wizard Ezren.
Compared to previous video game outings like Pathfinder: Kingmaker and Pathfinder: Wrath of the Righteous, which featured pausable turn-based battles similar to Baldur's Gate and other classic computer RPGs, the upcoming game's combat will be entirely real-time. Abomination Vaults' first trailer shows off plenty of spell effects and acrobatic martial abilities as players burn, shock and chop their way through dozens of enemies.
Abomination Vaults will be based on the Pathfinder Adventure Path of the same name, released in 2019 as a three-part storyline and described by publisher Paizo as Pathfinder 2E's most popular campaign. The campaign follows the party's journey into the megadungeon of Gauntlight Keep in pursuit of evil sorcerer Belcorra Haruvex, dealing with 10 storeys of traps and monsters - from dragons to giant spiders - along the way.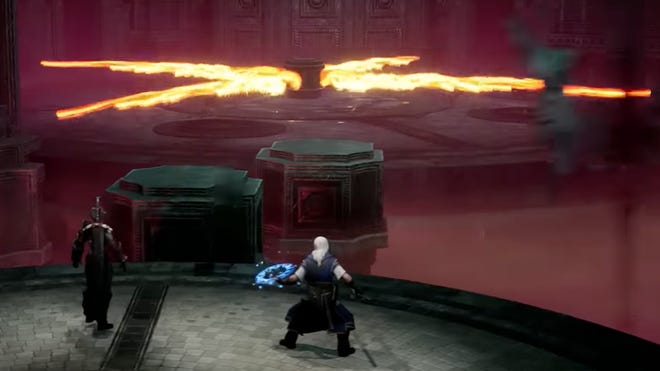 The video game's trailer shows off some of what to expect, including spinning fire wheels and environments varying from classic stone dungeons to fleshy spider lairs. As well as needing to put a stop to Haruvex's machinations, there'll be plenty of chance to loot treasure chests and discover valuable equipment.
A Kickstarter campaign for Pathfinder: Abomination Vaults will launch later in May, ahead of an unannounced release date. BKOM is yet to confirm on which platforms the video game will be available.