Disney Lorcana - Sleeping Beauty card unveiled for upcoming trading card game
You're not dreaming.
A new card for the upcoming trading card game Disney Lorcana has been unveiled.
Inspired by the classic Disney animated film Sleeping Beauty, which was first released in 1959, Aurora – Dreaming Guardian is the next card revealed to be included in the upcoming release of the trading card game. Featuring artwork by Nicholas Kole - who has previously created artwork for video games such as Crash Bandicoot 4: It's About Time and the Spyro: Reignited Trilogy – Aurora – Dreaming Guardian features a reimagining of the Disney Princess, whilst retaining her connection to the Sleeping Beauty myth.
The newly revealed card is part of the Hero, Princess, Floodborn and Sapphire Ink categories, which serve as keywords for cards in Disney Lorcana and may place restrictions onto whether the card can be included in certain deck-builds. Keywords in Disney Lorcana can also provide players with ways to create synchronised decks that activate certain effects or benefits based on shared keywords.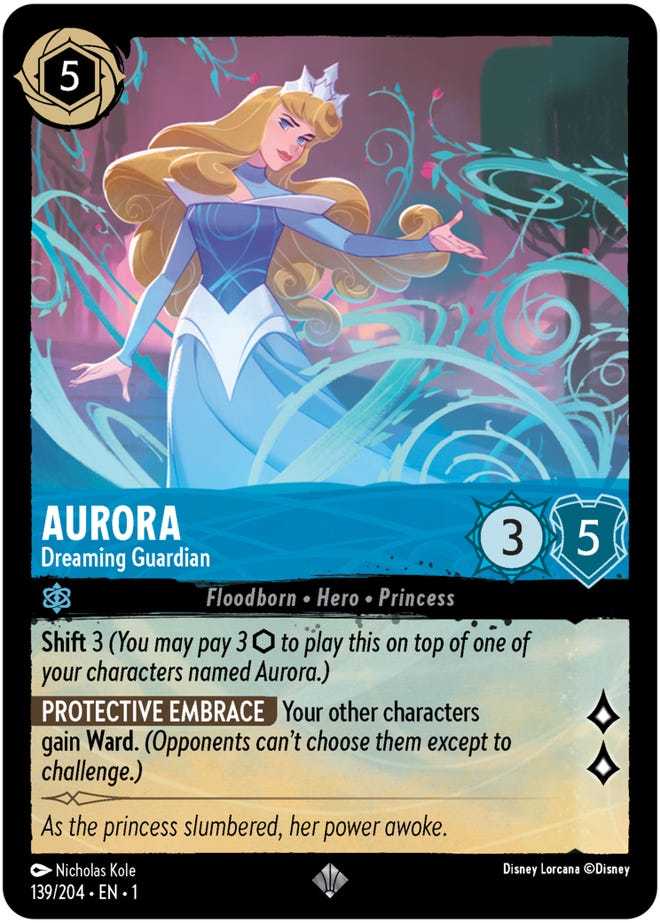 Aurora – Dreaming Guardian's ability enables the card to be placed on top of other cards also named Aurora, if the player is able to pay the cost. The card's other ability is Protective Embrace, which grants other characters on the player's battlefield the Ward status – thereby forcing the opponent to either target other cards with attacks or overcome a Challenge to attack warded cards. The details surrounding Disney Lorcana's gameplay mechanics are still under-wraps, however, the Aurora – Dreaming Guardian card does give players some insight.
Announced in August, Disney Lorcana is an upcoming card game that takes place in a shared multiverse featuring various characters from across Disney animated history. Featuring a collection of cards with a variety of keywords defining their ink colour – for instance, Sapphire, Amethyst Amber etc... - as well as whether they're a hero or villain, as well as other such aspects. Though the gameplay mechanics are yet to be fully revealed, the title's publisher Ravensburger – a studio best known for publishing board games, rather than TCGs – has promised "thoughtful and unique gameplay".
The Dicebreaker team discuss their thoughts on Disney Lorcana.
As well as Aurora – Dreaming Guardian, other cards for they Disney game have been revealed including the villain for Sleeping Beauty, Maleficent – in her iconic dragon form – as well as Elsa from Frozen, Peter Pan's nemesis Captain Hook, Robin Hood from Disney's 1973 animated film, Cruella de Vil, the mischievous alien Stitch and, of course, Mickey Mouse himself.
The Aurora – Dreaming Guardian card will be released as part of the Disney Lorcana Booster Packs – which contain cards of just one ink colour - and First Chapter Starter Sets, with each set features cards from two of the different ink colours, which are set to be released in August.