Disney Lorcana has a free app that helps players to create their own custom decks
Available now.
A companion app for the upcoming trading card game, Disney Lorcana, is now available to download for free.
The Disney Lorcana TCG Companion App is designed to help players learn how to play the trading card game and build their own decks. The most important feature of the app is the card catalog, which enables players to keep track of the cards they have collected so far, as well as devise a wish-list for the cards that they're looking to add to their decks.
Alongside this is a deckbuilding feature that helps players to create and edit their own deck-lists via the app, before assembling and altering the decks in real-life. Players will also have access to materials and videos to help them to learn how to play Disney Lorcana, on top of updates about the latest and upcoming releases for the game. Another useful feature is a built-in lore counter tool players can use during games to keep track of their and their opponents' lore.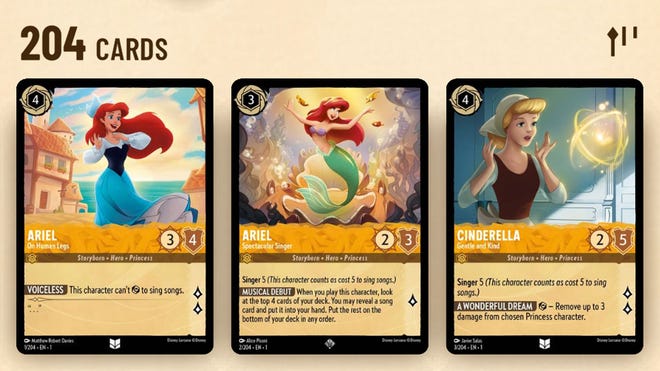 Disney Lorcana is a new trading card game that features various characters and recognisable references, from across the history of animated Disney films: such as Sleeping Beauty and Rapunzal. The card game sees players either using pre-built decks or decks they've created themselves in order to be the first to collect 20 lore. On their turn, players are able to place a single card facedown to add to their inkwell, which serves as their available currency. In order to put cards into play, players need to spend the required amount of ink from their inkwell.
Getting lore requires players to exhaust an available character card, which will grant them a certain amount of lore depending on the character in question. Players can also challenge any characters their opponent has exhausted, forcing them to exchange the character's health and strength with their own and potentially causing them to discard the card. Besides characters, players are also able to play useful permanent cards called items and song cards – which serve as instant spells and can cause a whole host of different effects.
Wheels recommendations five trading card games that aren't Magic: The Gathering.
Disney Lorcana is set to be published by Ravensburger, the publisher responsible for releasing Disney board games such as Disney Villainous – a board game in which players become a rogue's gallery of classic Disney villains competing against each other – and the horror board game Horrified.
The Disney Lorcana Companion App is available to download now from the Apple Store and the Google Play Store.