Disney Lorcana's First Chapter reprint lands sooner than expected, with Rise of the Floodborn included in plans
Ravensburger's Ryan Miller tells ComicBook the Disney-themed TCG will be injecting plenty of both sets into retail.
Disney Lorcana has moved up its timeline on reprinting its initial set for the popular trading card game and has further announced upcoming expansion Rise of the Floodborn will also be included in those plans. The injection of cardboard will help alleviate product stock woes in local game stores and in digital retail following Lorcana's explosive release in September.
A report from ComicBook states that Ravensburger's senior brand manager and Lorcana co-designer Ryan Miller told the outlet that the planned reprint should be available in the US "by Holiday 2023…and by January 2024 in Europe." Rise of the Floodborn's full set of cards will now also be included in this timeline.
Ravensburger previously said more booster packs of The First Chapter would be released into retail by October of this year, hopefully solving empty shelves and dessicated organised play in local game stores. Preconstructed decks and other products would reportedly follow shortly after, providing new players a way to learn how to play Lorcana as well as jump-starting their collection.
"We cannot discuss quantities, but our goal has always been to get as much product into the hands of fans as possible, and we are continuing to work with our suppliers to increase production to better meet demand as quickly as possible," Miller told ComicBook. "I can confirm that the reprint will include both starter decks and booster packs."
Disney Lorcana proved a commercial and critical success immediately upon launch in early September. The Dicebreaker team compared it favourably against competitors such as Magic: The Gathering and Pokémon TCG, but that glowing reveal was sullied by a distinct and consistent inability for players to purchase any cards - booster packs or preconstructed decks - almost a week later.
That stain has extended to Rise of the Floodborn's impending release. Social media posts and public announcements regularly house criticism that Ravensburger and licence holder Disney will keep shelves stocked. Others worry that online platforms such as Amazon and digital card resellers will be prioritised over brick and mortar stores, further harming an already struggling paper scene.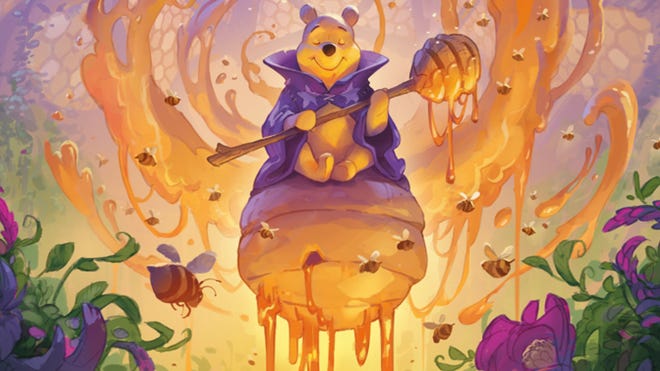 When asked about this by ComicBook, Miller attempted to allay concerns: "While we can't discuss the allocation split, supporting Independent Hobby retailers with Disney Lorcana TCG continues to be our #1 priority."
Disney Lorcana's second set, Rise of the Floodborn, releases in those hobby retailers mentioned above on November 17th, followed by a wider retail release on December 1st. The set includes 200 new cards, one new keyword and, if Wheels' speculation is to be believed, new and sinister storylines featuring an evil Mickey Mouse.