Disney Lorcana lawsuit alleges studio "encouraged" co-designer in "pilfering" original trading card game design
As Ravensburger responds to Upper Deck's claims.
Update 9/6/23: Lisa Krueger, senior communications director for Ravensburger North America, has provided an additional comment in response to Upper Deck's allegations: "We at Ravensburger stand behind the integrity of our team and the originality of our products. The baseless claims filed this week are entirely without merit, and we look forward to proving this in due time. In the meantime, our focus continues to be on developing and launching a fantastic game in August."
A tabletop publisher has alleged that Disney Lorcana studio Ravensburger "encouraged" the trading card game's co-designer in "pilfering" an original TCG.
Upper Deck Entertainment, the company best known for releasing the Legendary series of deckbuilding games, filed its complaint against Ryan Miller – co-designer of Disney Lorcana – and Ravensburger yesterday.
According to the studio's full lawsuit, as provided to Dicebreaker, Miller "transported his work" on an upcoming game set to be published by Upper Deck, called Rush of Ikorr, "into a trading card game called Disney Lorcana" which, according to Upper Deck, has "remarkable, uncanny similarities to Rush of Ikorr". Upper Deck also alleges that Ravensburger "aided and encouraged" Miller and "seeks to profit from the stolen property".
The complaint document for the lawsuit details how Miller was hired by Upper Deck through a "gaming summit" that took place in December 2018, with the designer said to have entered into a "Summit Agreement" which stated that the publisher "would own and hold all rights to use" the "ideas and feedback relating to the design and creation of new games and mechanics" from the event. Allegedly, the Summit Agreement contained "confidentiality and Work for Hire clauses requiring Miller to keep private anything shared at the summit".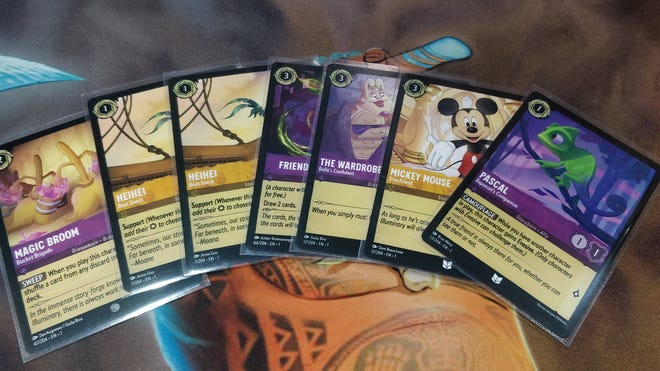 After the summit, Upper Deck claimed that Miller accepted the role of lead game designer for a new trading card game, Rush of Ikorr, in 2019. Miller was reportedly responsible for creating Ikorr's theme, gameplay mechanics and a demonstration deck, with the Work for Hire Agreement Miller had allegedly signed stating that "all of the products, works, concepts, trade secrets and intellectual property developed by Upper Deck and Miller to create Rush of Ikorr belonged solely to Upper Deck".
The complaint also includes the claim that the Work for Hire Agreement signed by Miller ensured that the "obligation" for keeping information regarding Ikorr confidential continued "even after termination or satisfaction of the contract".
After reportedly paying Miller "tens of thousands of dollars for his services", Upper Deck claims that the designer informed the company he was terminating his Work for Hire Agreement in October 2021. Upper Deck alleges that Miller had been "discussing potential work for and/or employment by Ravensburger, although he concealed this fact from Upper Deck". According to Upper Deck, the company would have "taken affirmative action to protect its ideas, concepts, details and intellectual property," if it had known.
Allegedly, Miller "maintained access" to "confidential, propriety information" about Rush of Ikorr, including "draft rules, concepts, components, designs, marketing strategies and plans for implementation", after terminating his Work for Hire Agreement with Upper Deck. Upper Deck "believes that Ravensburger induced and intended for Miller to breach his obligations so it could capitalise on Miller's knowledge of the elements of Rush of Ikorr game so he could make a near-identical game for it".
Wheels recommends five trading card games that aren't Magic: The Gathering.
The complaint issued by Upper Deck then goes on to outline the alleged similarities between the yet-to-be-released Rush of Ikorr and Disney Lorcana. According to Upper Deck, Rush of Ikorr is a trading card game for at least two players that sees competitors taking control of gods from various ancient mythologies, such as Ancient Greek or Mayan. Using their 40 card decks – which contain a maximum of two card colour types – players place down various cards, such as playable creatures called champions or permanent effects called locations, onto the table. Players can play cards by spending cards placed in their 'influence zone', which players can put one card in on their turn.
Players can then summon cards by paying their 'recruit cost' from their influence zone, with champions able to attack an enemy card or 'raid' - but not on the turn they're played, unless otherwise stated on the card. Raiding allows the player to gather 'gems' that will go towards their win goal of collecting a certain number of gems before their opponent. Sending a champion raiding makes them vulnerable to attack from enemy champions, with the card holding the lower strength value being destroyed.
According to Upper Deck, Disney Lorcana shares similarities with Rush of Ikorr primarily in Lorcana's inkwell mechanic - "[which] functions near-identically to Rush of Ikorr's Influence Zone" - that allows players to put a card aside to be used as a resource for playing other cards, as well as in Disney Lorcana's lore-gathering mechanics - "[which] function identically to Rush of Ikorr's Gems and Raid value" - that see players sending their characters on quests to collect the 20 lore they need to win the game. Upper Deck also claims that Disney Lorcana's challenging mechanics – through which characters can deal damage to opposing characters – are "like Rush of Ikorr".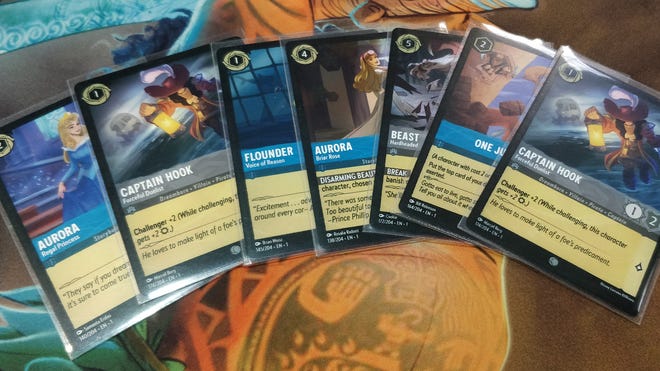 Upper Deck highlights specific examples of mechanics in Disney Lorcana supposedly "copied and pasted from that of Rush of Ikorr", such as card abilities like "support" - through which cards can provide other cards with additional strength – and "evasive", an ability that ensures a card cannot be targeted unless by another card with the same ability, which Upper Deck claims "has the same exact effect as the 'elusive' ability in Rush of Ikorr".
"Because all of the Lorcana cards are not yet publicly available, Upper Deck cannot know the full extent of the overlap between the cards in each game, but believes and is informed there are others," the complaint continues.
According to Upper Deck, Miller's involvement with Rush of Ikorr "allowed Ravensburger to gain a competitive advantage," and claims that the company has "been harmed by Ravensburger's conduct". The complaint outlines a number of ways Upper Deck has been and will be allegedly "harmed", including the potential for the market to "incorrectly assume that Rush of Ikorr is an imitation of Lorcana, when in fact the opposite is true," due to the fact that Rush of Ikorr is currently set to release after Disney Lorcana.
Watch on YouTube
Wheels explains why Commander is the best Magic: The Gathering format.
Should the court rule in favour of Upper Deck's complaint, the company is seeking "general and special damages", including preventing Ravensburger from "publicly releasing Lorcana" and "punitive damages in an amount appropriate to punish Miller and Ravensburger and deter others from engaging in similar misconduct", amongst others. Upper Deck's complaint includes a demand for jury trial.
A representative for Ravensburger responded to Dicebreaker's request for comment by stating: "Ravensburger has not been served with a complaint and thus cannot speculate on potential legal matters. We at Ravensburger stand behind the integrity of our team and the originality of our products."
Dicebreaker has since reached out to Ravensburger and Miller for any additional comments regarding Upper Deck's full lawsuit. Update 08/06/23: Ravensburger and Miller declined to offer additional comment in response to Upper Deck's full lawsuit.
Disney Lorcana, the trading card game featuring characters and references from Disney animated history, is set to be launched at this year's Gen Con – which will take place between 3rd and 6th of August – before receiving a wider release on August 18th.