Disney Lorcana studio sued over claims it "stole and copied" trading card game
"We encourage competition, but also believe in playing by the rules."
Update 9/6/23: Lisa Krueger, senior communications director for Ravensburger North America, has provided an additional comment in response to Upper Deck's allegations: "We at Ravensburger stand behind the integrity of our team and the originality of our products. The baseless claims filed this week are entirely without merit, and we look forward to proving this in due time. In the meantime, our focus continues to be on developing and launching a fantastic game in August."
Update 8/6/23: A representative for Ravensburger has since responded to Dicebreaker's request for comment with the following - "Ravensburger has not been served with a complaint and thus cannot speculate on potential legal matters. We at Ravensburger stand behind the integrity of our team and the originality of our products."
Ravensburger, the company responsible for releasing the upcoming Disney TCG Lorcana, is being sued for allegedly "stealing and copying" a trading card game.
In a press release sent to Dicebreaker, Upper Deck Entertainment – the company known for publishing the Legendary series of deckbuilding games – announced that it is suing Ravensburger and a former Upper Deck game designer for allegedly "stealing and copying Upper Deck's original game, which Ravensburger repackaged and marketed as Lorcana".
According to Upper Deck, it had "invested significant time and resources to develop a new and novel trading card game," that the studio claims Ravensburger turned into Disney Lorcana.
"We encourage competition in the industry," said Upper Deck president Jason Masherah, "but also strongly believe in playing by the rules to ensure the gaming community benefits from the different creative choices by each manufacturer."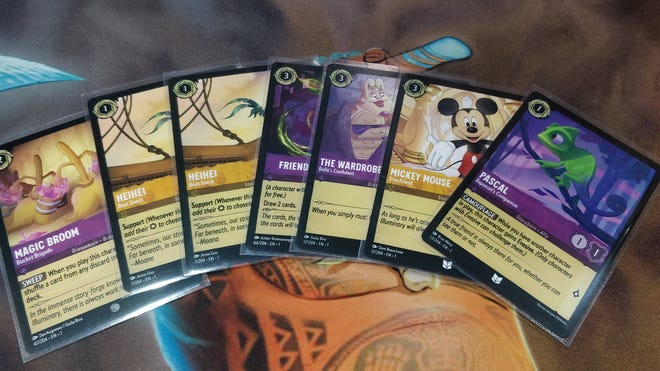 Dicebreaker has contacted Upper Deck to clarify what has reportedly been stolen from its original TCG.
Disney Lorcana is an upcoming game that sees two or more players competing against each other to be the first to gather 20 lore. Containing cards featuring notable Disney animated characters – such as Mickey Mouse, Ariel, Sleeping Beauty and more – Lorcana has players using their cards to collect lore, primarily by sending them 'questing'.
Players will be able to play their cards by spending ink, a resource that can be obtained by placing a card from their hand into their 'inkwell' - which is a separate pile exclusively reserved for ink. Each card costs a certain amount of ink to be played, with players able to place a single card in their inkwell every turn. Any cards used in the inkwell will be refreshed at the start of a player's turn.
Wheels recommends five trading card games that aren't Magic: The Gathering.
Sending cards on a quest will leave them vulnerable to 'challenges' from opposing characters. Whenever a card is challenged, its strength and health are compared with that of their challenger's, with damage being exchanged. If a card ever takes more damage than it has health, it must be removed from play and placed in the owner's discard pile.
Besides Disney Lorcana, Ravensburger is known for publishing the likes of Disney Villainous – a Disney board game that has players becoming iconic Disney villains and attempting to complete their objectives first – and the Horrified series of board games.
Dicebreaker has reached out to Ravensburger for comment regarding Upper Deck's allegations, but has not received a response yet.