Disney Lorcana card featuring Frozen's Elsa sells for over $7,000
This D23 Expo version might be the most expensive Lorcana card sold to date
Those promotional Disney Lorcana cards you snagged from conventions might be worth a hot dollar, as a copy of Elsa, Snow Queen from last year's D23 Expo just sold at auction for more that $7,000.
Disney Lorcana landed with collectibility built into the trading card game's design. Attendees of the 2022 D23 Expo in California snagged 1st Edition promotional cards from The First Chapter a full year before the set would be released to the public. These seven cards bore a unique stamp at the bottom, were printed in extremely limited quantities and have become prime targets by Lorcana collectors.
An Elsa, Snow Queen graded Gem Mint 10 by Professional Sports Authenticator sold on October 16th via online auction platform eBay for a whopping $7,050. Gem Mint 10 is the highest rating PSA awards to cards and denotes virtually no blemishes, wear or signs of existing outside the booster pack sleeve or plastic wrapping.
As far as we can tell by looking at past eBay sales and TCGplayer market prices, this makes the auction the most expensive Lorcana card sold yet. PSA's own tracking of Elsa, Snow Queen across multiple secondary markets corroborates this honour, but Dicebreaker has reached out to the grader for verification and more information.
Other copies with a similar grading sold as recently as August for thousands less, so what caused the sudden spike in price? One possible explanation could be that Lorcana publisher Ravensburger recently announced that it would be changing how the trading card game publishes promotional cards in 2024.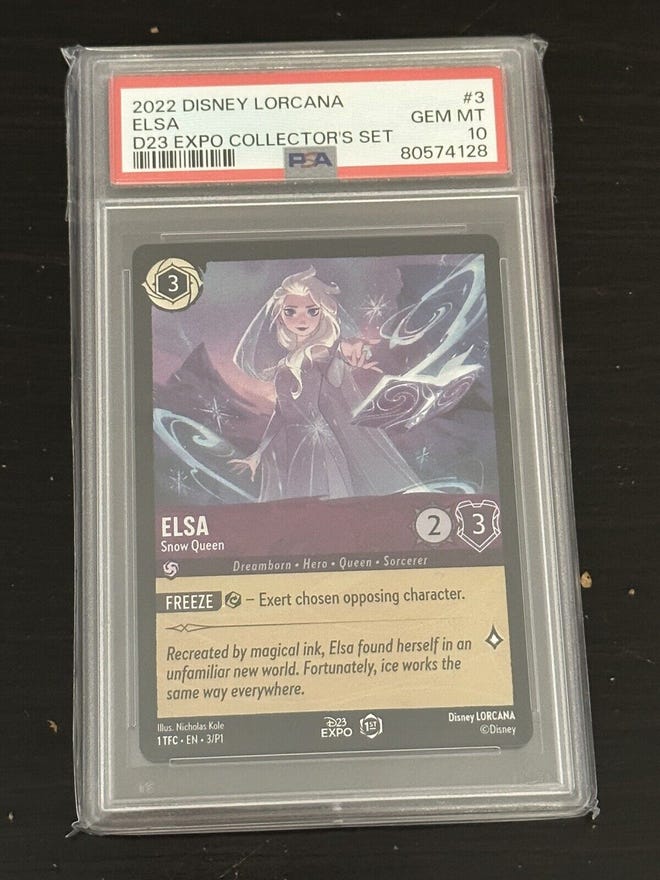 Previous sprees of convention-specific promos would be replaced with three special cards available at all events during that year. The unique marks next to the card's rarity have been retired, as well - Lorcana has introduced a new symbol indicating their provenance. 2024's trio includes Pinocchio, Talkative Puppet, Rapunzel, Gifted Artist and the song Four Dozen Eggs, which were recently previewed on Lorcana's official Twitter account.
Rise of the Floodborn, Lorcana's second set will drop on December 1st, just after Ravensburger reprints The First Chapter in enough quantity to satisfy a community of players and collectors that have gobbled available stock off of shelves. Blaming global distribution issues, the company has dedicated itself to keeping Disney Lorcana well stocked going into its already well-planned future.