Disney Lorcana releases in local gaming shops and Disney Times Square store today
Coming to Disney Parks "soon."
Disney Lorcana, the new licensed trading card game, is releasing in local game shops and the Disney Store in Times Square today.
Published by Ravesnburger – the company behind Disney board games like Disney Villianous – Disney Lorcana is a trading card game that sees characters from across the studio's history of animation competing to gather lore.
The card game features a selection of 200 cards split into six different types of ink, each reflecting a certain kind of gameplay approach, with every card also being part of one of three main types: characters, items and songs. Players are able to use either one of the three available starter decks or can create their own by gathering together 60 cards into a deck: ensuring that there aren't more than two different types of ink colours in it.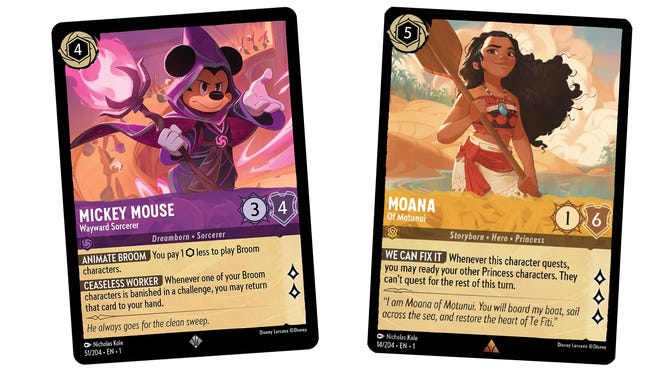 During the trading card game, players take turns to play cards from their hand, ensuring they have enough ink to pay their cost. Players can acquire ink by laying down a maximum of one card from their hand facedown onto the table per turn. Whenever players use ink it is expended for that round, with all used ink being refreshed at the beginning of a player's turn. The goal of the game is to be the first player to gather 20 lore, with players able to gain lore by exhausting their character cards on the table. Each character card will be able to gather a certain amount of lore.
Whenever a character card quests for lore, it becomes vulnerable to being challenged by an opponent. Challenges sees two players comparing the strength and health of the attacker's chosen card/s and the targeted card/s, with the two exchanging the amounts. If a card's health falls below zero it must be discarded, with damage carrying over between rounds.
Liv and Maddie play Disney Lorcana together for the first time!
Disney Lorcana initially debuted at the Gen Con convention earlier this month, with customers queuing throughout the convention hall to get their hands on starter decks and booster packs, with some people admitting they had been queuing for over 16 hours.
The trading card game is now set to be released across local game shops in a variety of regions, including the US and Europe, from today – with Ravensburger confirming that it would be coming to Disney Parks "soon". Alongside local game stores, Disney Lorcana will also be releasing in the Disney Story in Times Square today, before the card game is released via online stores and other retailers from September 1st.