Here's an exclusive first look at three new character cards from Disney Lorcana's The First Chapter set
Tangled's Rapunzel, Flynn Rider and Maximus make a fresh appearance in the TCG.
We're now less than a month away from the release date of Disney Lorcana, the House of Mouse's much-anticipated move into the world of trading card games. Ahead of Lorcana's pre-release at Gen Con at the start of August and availability in local game stores from August 18th, Dicebreaker is able to exclusively reveal three brand new character cards from the TCG's debut set The First Chapter.
Disney Lorcana sees two players duking it out using characters from Disney movies both new and old, running the gamut from Mickey Mouse's first appearance in 1928 short Steamboat Willie up to recent hits like Frozen and Moana.
Rather than whittling down their opponent's health to zero, as in TCGs like Magic: The Gathering, Lorcana is about racing to obtain 20 lore faster than your opponent, using the heroes and allies at your disposal to quest for your own lore points while challenging rival characters to slow your opponent's sprint toward victory. To play cards, players spend ink - a resource obtained by adding cards to your inkwell facedown, after which they can only be used to play other cards.
While Disney Lorcana's rules differ from the likes of Magic: The Gathering and Pokémon in a number of ways, there are plenty of familiar elements here too; you can still construct a custom deck using 60 or more cards, which must be from just one or two of the game's different colour-coded ink types - similar to mana colours in MTG. The cards also feature various keywords that dictate their gameplay abilities and how they interact with other cards and powers.
The three Disney Lorcana cards we're able to reveal show off some of these abilities, with both universal keywords and unique effects for hero characters. The three new card reveals provided by publisher Ravensburger are characters from Tangled, Disney's 2010 animated take on the story of Rapunzel.
Rapunzel, Gifted with Healing features the long-haired heroine herself on an Amber-ink hero princess card requiring four ink to play. Her Gleam and Glow ability - taken from a line in the healing incantation she sings during the film - allows Rapunzel to remove up to three damage from a character when played, before drawing a card for each damage removed using the effect. The card joins previously revealed card Rapunzel, Letting Down Her Hair.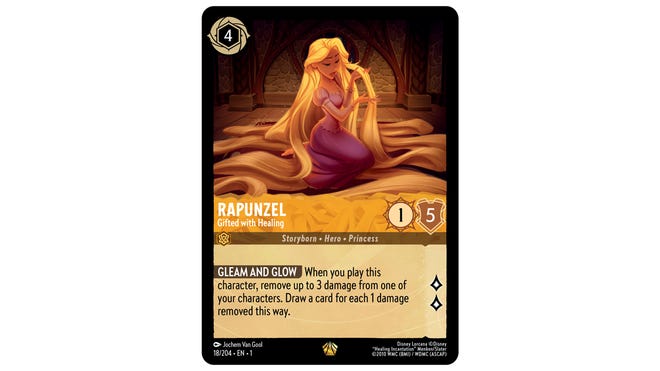 Rapunzel's romantic and comedic foil Flynn Rider, Charming Rogue makes an appearance on his own card, the hero prince card part of the Emerald ink set and costing two ink. The card's Here Comes the Smolder effect forces the opposing player to choose a card to discard whenever Flynn is challenged.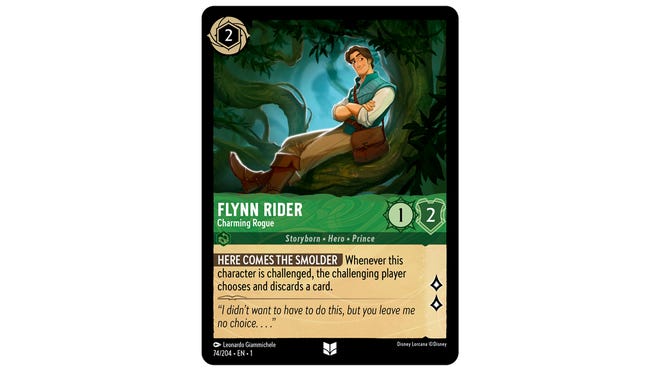 Flynn's mount Maximus, Palace Horse appears as an Amber-ink ally card costing five ink with two of Lorcana's universal keywords: Bodyguard and Support. Bodyguard allows the card to enter play exerted - rotating it 90 degrees to the side, which opens it up to possible challenges - in order to force the opponent to challenge the bodyguard card if they attack on the next turn. Support, meanwhile, allows the ally card to add its strength value to another character when Maximus is used to quest. We've previously seen the equine ally appear on the Maximus, Relentless Pursuer card.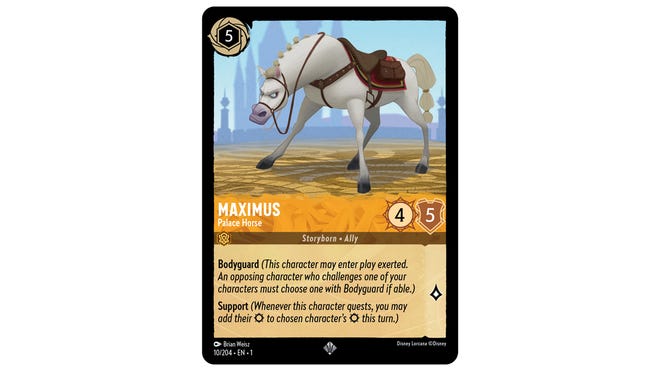 All three of the latest Lorcana card reveals are Storyborn cards - the TCG's terminology for cards that depict characters as they originally appeared in Disney movies. Alongside Storyborn cards, the game includes Dreamborn cards - which offer variations on the familiar characters - and Floodborn cards, which present more out-there reimaginings, such as a rock star Stitch or a super-sized giant version of Peter Pan's fairy companion Tinkerbell.
Disney Lorcana will see an early pre-release Gen Con from August 2nd, followed by a launch in local game stores on August 18th. It'll then be widely available from September 1st. (Update: Ravensburger has confirmed that Disney Lorcana's release date won't be affected by the recent Upper Deck lawsuit.)