Pathfinder humble bundle enables players to begin their fantasy RPG adventures for $5
Top tier includes $400-worth of stuff.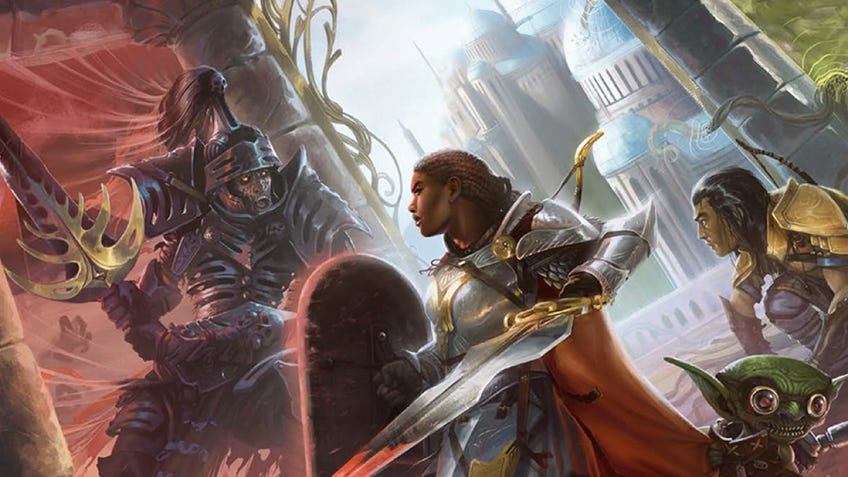 Players can begin their journeys into the world of Pathfinder: Second Edition for just $5 in a new bundle for the tabletop roleplaying game.
The 'So You Wanna Try Pathfinder RPG' Book Humble Bundle features three tiers, each one priced at a certain cost and containing increasing amounts content for players and game masters to download. Every tier in the bundle features a selection of codes that buyers can use to download the associated PDFs and use for their games, with the higher tiers containing additional adventures for players and their party to embark upon.
A percentage of the profits made from the tabletop RPG bundle will be donated to Code for America, a non-for-profit organisation that assists municipalities and government institutions to create programs based on open-source software.
Watch on YouTube
Liv highlights some of the best fantasy roleplaying games that aren't D&D.
The first tier within the Pathfinder bundle costs $5 (£4) and contains everything players and GMs need to begin playing the fantasy roleplaying game. Using the Pathfinder 2E Beginner Box, players can create their own characters or start their adventures with one of the pre-generated characters included therein. The Game Master's Handbook gives GMs a concentrated version of the core rulebook, which provides a more accessible introduction to running Pathfinder: Second Edition.
Alternatively, GMs and players can jump straight into using the Pathfinder 2E Core Rulebook – a book that contains a more comprehensive insight into playing and running the TRPG. Alongside this, GMs can also gain access to a bestiary for Pathfinder that features a rogue's gallery of monsters and enemies to include in their campaigns. The first tier also includes a World Guide, Character Pawn Collection and a one-shot adventure called Sundered Waves.
Getting the second tier, which costs $15 (£12), will give access to everything included in the first tier as well as several additional pieces of content. As well as an extra Besitary book, the second tier features several pieces of complementary content like a Lost Omens Character and Ancestry Guide, multiple flip-Mat maps for GMs to implement in their campaigns, Society Intros to provide more context and second extra adventures to run.
The first episode of Storybreakers, Dicebreaker's own actual-play RPG series.
The third tier – costing $25 (£20) - contains all of the above, as well as the Secrets of Magic and Gamemaster's Guide, both valuable tools in running campaigns in the fantasy RPG. On top of that, there are several Pawn Collections, Flip-Mat maps and Society-Intros included, alongside an Adventure and Adventure Path: which features an entire campaign for players to experience.
Pathfinder: Second Edition is a fantasy roleplaying game published by Paizo in which one player becomes a game master – the person who narrates the story – and the other players control a cast of characters. Set in a fantasy world, Pathfinder 2E sees players creating characters based on various classes, backgrounds and ancestries, before embarking on questlines that can take them through multiple levels.
The 'So You Wanna Try Pathfinder RPG' Humble Bundle is live until February 22nd, with buyers able to redeem their acquired codes in the Paizo store.