Lorcana: here's where to buy the new Disney TCG
Find out Disney Lorcana prices for booster packs, starter decks, gift sets and bundles.
Lorcana is an exciting new Disney card game from Ravensburger that released at local board game stores on August 18th 2023, followed by a larger release at major retailers on September 1st. Disney Lorcana cards are selling out fast, so we've gathered all the links you need to buy booster packs, starter sets and more.
Disney's first ever collectible card game features stunnning original artwork with some of Walt Disney's most beloved characters - including the iconic mouse that started it all, Mickey Mouse, and many other memorable faces from the line-up of Disney princesses, villains and more.
The Disney Lorcana TCG is already proving to be incredibly popular, appealing to beginner gamers, seasoned collectors and Disney fans alike. It's expected to follow in the footsteps of the Pokémon TCG, Yu-Gi-Oh! card game and Magic: The Gathering.
Where to buy Disney Lorcana in the US and UK
If you're ready to embark on a new magical adventure, you can find out where to buy Disney Lorcana cards below.
Where to buy Disney Lorcana: The First Chaper Booster Packs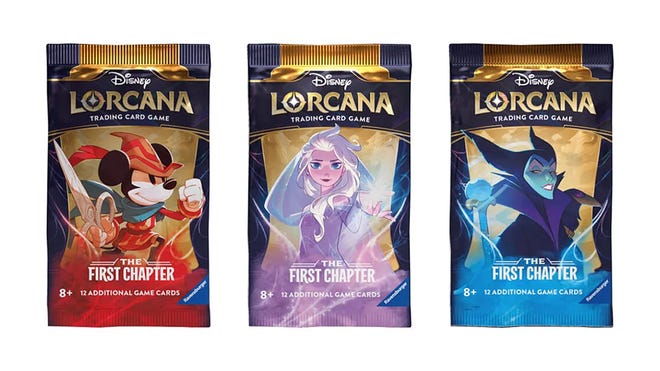 Disney Lorcana booster packs contain 12 random cards from The First Chapter including six common cards, three uncommon cards, two rare, super rare or legendary cards and one foil card with a random rarity level. These Disney Lorcana cards include characters and abilities that won't be found in the starter decks, meaning you can build and customise a more unique deck and pull rarer cards. Disney Lorcana booster pack prices start from $5.99/£4.99 or you can buy a complete bundle with 24 booster packs.
US
UK
Where to buy Disney Lorcana: The First Chapter Starter Deck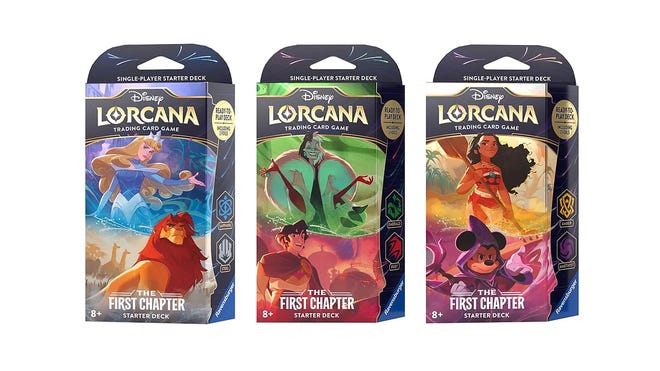 The Disney Lorcana starter decks are great for beginners and for those who want to jump straight into a game with a pre-built 60-card deck. Included is an extra booster pack. You can choose from three options: Amber and Amethyst, Emerald and Ruby, or Steel and Sapphire, or you can buy all three as a bundle. Prices start from $16.99/£17.99.
US
UK
Where to buy Disney Lorcana: The First Chapter Gift Set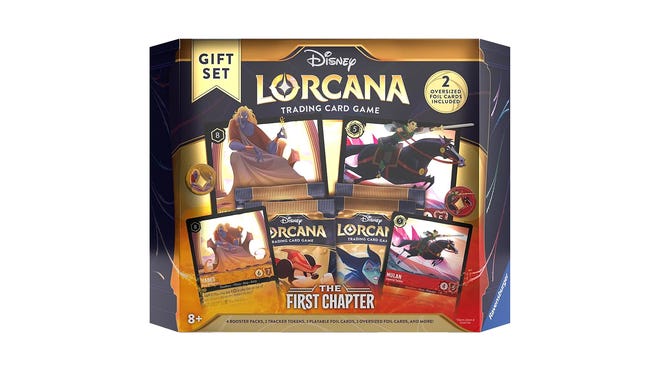 The Disney Lorcana Gift Set includes four booster packs, two collectible oversized foil cards and two playable foil game cards. It also includes 34 game tokens. The gift set for Disney Lorcana: The First Chapter features Mulan – Imperial Soldier and Hades – King of Olympus. Prices start from $30/£27.99
US
UK
Where to buy Disney Lorcana: The First Chapter Illumineer's Trove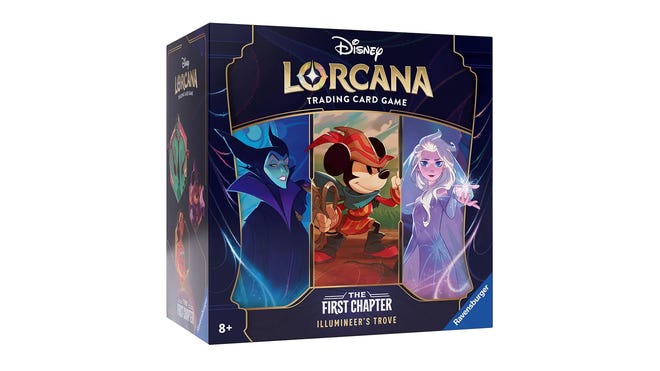 The Disney Lorcana Illumineer's Trove contains one storage box, two deck boxes, eight booster packs, 15 game tokens and a player's guide. Some sets have already sold out but you may get lucky with more stock on September 1st.
US
UK
---
Disney Lorcana FAQs
What is Disney Lorcana?
Disney Lorcana is a multiplayer card game that has players take on the role of an Illumineer. Each player must build their Lorcana deck with character, action, and item cards. Players must compete to gather 20 lore, a resource that can be found by sending Disney characters out on varied quests. You can also challenge your opponent's characters, or play other cards to help you win.
For more about Disney Lorcana, check out our detailed guide on how to play Disney Lorcana.
You can also keep up to date all our latest Disney Lorcana guides, news and updates by bookmarking our Disney Lorcana hub or by following our Disney Lorcana topic below. Following the topic means you'll get notified as soon as we post about Disney Lorcana.
When is Lorcana out?
Disney Lorcana launched in local board game stores on 18th August 2023, and in major retailers like shopDisney and Best Buy in the US and Game or Zatu Games in the UK on 1st September.
How much is the Disney Lorcana booster pack?
The Disney Lorcana booster packs cost $5.99/£4.99 and contain 12 random cards for you to build and customise your deck with.