Save 25% on Ticket to Ride, a digital version of the hit board game, on Xbox Live
Along with 40% off Munchkin: Quacked Quest.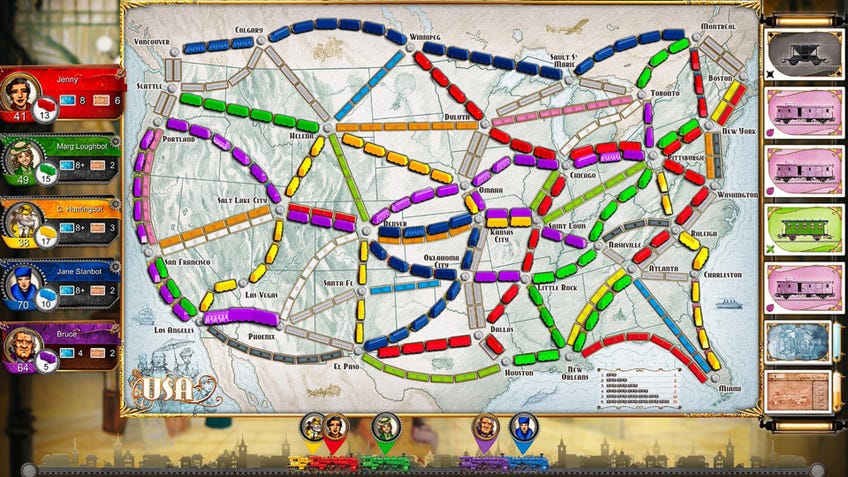 Take a virtual voyage across North America in the digital board game version of Ticket to Ride, currently 25% off its original asking price on Xbox Live.
A family board game that has players laying claim to a variety of train routes across the USA, Ticket to Ride is a simple beginner board game that has since expanded with numerous different versions featuring locations such as Japan, Europe and London. Each turn players can choose to either take up to two cards matching the differently-coloured routes on the board, or use the cards in their hand to claim one of the open routes.
The more train cars a player uses to connect two locations, the longer the route and the more points they receive. There are additional points for having the longest total route, as well as for fulfilling hidden destination cards by connecting certain locations with routes that they own. The winner of Ticket to Ride is whoever holds the most points from routes and destinations by the end of the game.
Alan R. Moon is the designer behind the original Ticket to Ride, as well as many of the series' entries - including quick board game spin-off Ticket to Ride: London, which plays in just 15 minutes.
The publisher of the Ticket to Ride board games is Days of Wonder, creator of co-op board game Shadows Over Camelot, while the digital board game version has been developed by Asmodee Digital.
The digital board game version of Ticket to Ride plays much like the original tabletop edition, but with the added whimsy of train sound effects and access to the Nordic Countries map for free.
You can also get several expansions at a discounted price on Xbox Live, including Ticket to Ride: United Kingdom, Ticket to Ride: Europe and Ticket to Ride: India.
Also on sale on Xbox Live at the moment is Munchkin: Quacked Quest, a video game adaptation of the party board game - originally published by Steve Jackson Games - in which players compete to complete as many dungeons as they can, all whilst collecting loot and killing monsters. Despite not being a direct digital board game version of Munchkin, players can get Munchkin: Quacked Quest for 40% off its original price.
Ticket to Ride and Munchkin: Quacked Quest will both be on sale until April 20th 2020.